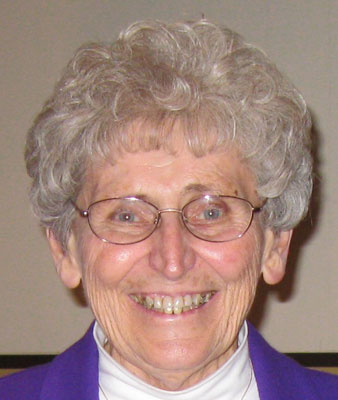 SISTER MARY LEE NALLEY
CANFIELD - Sister Mary Lee Nalley, OSU, died at the Ursuline Motherhouse just before midnight on Wednesday, Jan. 9, 2019. She was 81.
Sister Mary Lee Nalley was born April 22, 1937, on the east side of Youngtown, the daughter of Joseph and Margaret Drummond Nalley.
Sister Mary Lee graduated from Immaculate Conception Elementary School and Ursuline High School in 1955.
She entered the Ursuline Sisters on Sep. 8, 1955, and entered the novitiate on Aug. 9, 1956. She made perpetual profession of vows on Aug. 12, 1961.
Sister Mary Lee earned a BSE from Youngstown State University in 1960. She also did post-baccalaureate work at St. John College in Cleveland, Loyola University in Chicago, Miami University in Oxford, Ohio University, and Youngstown State University.
After graduation from YSU, Sister Mary Lee began her 60 years of active ministry. She taught at St. Nicholas in Struthers, Our Lady of Lourdes in East Palestine, SS. Peter & Paul, St. Ann, St. Columbas, and Immaculate Conception elementary schools in Youngstown. She also served as a Pastoral Minister at Immaculate Conception and then St. Angela Merici Parish. In all, Sister Mary Lee served the Catholic Community on the east side of Youngstown for 47 years.
In addition, Sister Mary Lee served on the staff of the Ursuline Center in Canfield and was one of the co-founders of the Ursuline Sisters HIV/AIDS ministry.
In 2014, Sister Mary Lee was honored as alumna of the year by Ursuline High School.
Sister Mary Lee leaves her Sisters in the Ursuline Community; two sisters, Patricia Dempsey of Huntington, W.Va. and Margaret McDonough of Boardman; sisters-in-law Carol Nalley and Nancy Nalley Duigou; numerous nephews, grand nieces and nephews, and cousins.
She was preceded in death by her parents and her twin brothers Joseph and Patrick Nalley.
Friends may call today, Jan. 11, 2019, from 4 to 7 p.m and on Saturday, from 8:45 to 9:45 a.m. at the Motherhouse.
A Mass of Christian Burial will be celebrated on Saturday, Jan. 12, 2019, at 10 a.m. at the Ursuline Motherhouse, 4250 Shields Road, Canfield.
In lieu of flowers, memorial contributions can be made to the Ursuline Sisters of Youngstown.
Family and friends may visit www.foxfuneralhome.org to view this obituary and send condolences.
Guestbook Entries
My deepest condolences
"Now is Mary's time to rest...may Jehovah God the God of all comfort...comfort her family and friends in this time of need...2 Corinthians 1:3,4"
» KMB on January 30, 2019
Condolences
"Condolences to Sister Mary Lee's family and her nephew, Patrick Nally. Sister Mary Lee was my 5th grade teacher and Patrick and I were in the same grade. May the Lord be with you and your family during this time of sorrow. "
» Salimah Harris Dunn on January 17, 2019
Condolences sister
"Sister Mary Lee was my favorite teacher. She taught me in the 5th and 6th grades. I will always remember her kindness. I know that God has said to her, "Well done, my good and faithful servant." "
» Marilyn Clark-Redd on January 12, 2019
Condolences
"Thoughts and prayers gonto the family of SR Mary Lee and the Ursuline Community Family. I had the pleasure of knowing Sr. Lee most if my life beginning at Imma.Conception School. She was a wonderful teacher, person and friend who always had a beautiful smile to greet you. She will be so missed but forever in peace. Memories will keep her here with all."
» Roseann DeSimone Cullen on January 12, 2019
Condolence
"You were a good friend to me and my mom you are in heaven with her. RIH will be missed. "
» Yvette Woodberry RIH on January 11, 2019
My Sympathy
"You are in my prayers"
» Tom Higley on January 11, 2019
Condolences
"Condolences to the entire Ursuline Sister community . Sister Mary Lee and I were classmates at immaculate Conception school and our first grade. Teacher was sister Virginia McDermott. What a great human being. God Bless. "
» Mike Giambattista on January 11, 2019
Rest In Peace
"My deepest sympathy to the Community of Ursuline Sisters on their lose. I had the privilege of being one of Sr. Mary Lee's students at St. Nicholas. She was such a kind and caring person. "
» Dorianne Riley on January 11, 2019
Condolences
"Mary Lee was a special friend of our family, especially my sister Rosemary Tyrrell and my wife Kathleen who worked several years at the preschool with Mary Lee. Its comforting to know that she is back at home with her parents and brothers."
» David ONeil on January 11, 2019
Sign the Guestbook
---