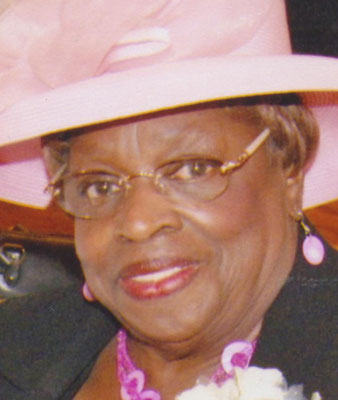 ORA LEE HIGHTOWER-BROWN
YOUNGSTOWN - On Sunday, Jan. 6, 2019, at 4:30 p.m., God sent his angels to escort one of his precious children to her heavenly home, Mrs. Ora Lee Hightower-Brown, 86, who was surrounded by her loving family at home.
Ora was born May 3, 1932, in Youngstown, a daughter of the late Caleb and Dolly Ann Clark Hill.
She attended East High School. Ora was united in holy matrimony to the late James E. Bohannon in 1950 and to this union one child was born, Nathaniel.
She confessed Christ at an early age and was baptized. She joined the Mt. Zion Baptist Church in Youngstown and became a member of the No. II Usher Ministry.
On June 17, 1961, she married the late Floyd Hightower and relocated to Aliquippa, PA. While in Aliquippa, she joined the Bethel Missionary Baptist Church, and was employed at the Surburban General Hospital. In the mid 1980's, she and her husband returned to Youngstown and reunited with the Mt. Zion Baptist Church. Floyd passed away on May 23, 1991.
Upon her return to Youngstown, she sought employment with the Youngstown Area Urban League in its Seniors program.
She was a member of the Pink Carnation Club, A. Phillips Randolph Institute, NAACP, and the United Negro College Fund. She enjoyed entertaining, traveling, cooking, shopping (especially for hats), and was very family oriented.
On Sept. 2, 1995, she married Leon Brown. He passed away in June 7, 2000.
She leaves to mourn her passing, but to rejoice in her heavenly peace, her son, Nathaniel (Carla) Bohannon of Youngstown; her granddaughter, whom she reared and with whom she made her home, DeShawn Bohannon Hightower (Glen Brown); a step daughter-in-law, Deborah More of Youngstown; 2 sisters-in- law, Ann Hightower of Miami, and Doris Hightower of Aliquippa, Pa.; a special cousin, Sharon Hill Staples of Chicago, who was like a niece; eight step grandchildren; and a host of other family and friends.
She was greeted at Heaven's Gate by her parents; her husbands; a cousin, Owens Hill, who was like a brother; uncle and aunt, Joseph and Thelma Clark, who were like parents to her after the death of her parents.
Visitation will be on Monday, Jan. 14, 2019, from 11 a.m. to noon at the Mt. Zion Baptist Church, 827 Wilson Ave. Funeral Services will follow immediately at noon.
The family wishes to give special thanks to Hospice of the Valley, Medicare Care Choice Team, Chaplain Gary Rozier, Yvonne Wilson, Dr. Ronald Scott, Dr. Zeina Amil, and Dr. Medford Mashburn; Comfort Keepers; and caregiver, Janet Wright.
Arrangements entrusted to the L.E. Black, Phillips & Holden Funeral Home.
Guestbook Entries
My deepest condolences
"Now is Ora's time to rest...may Jehovah God the God of all comfort...comfort her family and friends in this time of need...2 Corinthians 1:3,4"
» KMB on January 30, 2019
My Condolences
"With heartfelt sadness for your loss. Such a beautiful and caring person. She will be missed by many."
» Lula M Scott on January 15, 2019
My sincere condolences
"Nate you and your family have my sincere condolences. I am praying for you and your family."
» Sally Cox on January 14, 2019
DEEPEST SYMPATHY
"MAY GOD CONTINUE TO COMFORT YOU AND YOUR FAMILY DURING YOUR LOSS OF YOUR LOVE ONE. LOVE: SERENA, GLORIA AND RHONDA"
» SERENA HARRIS on January 14, 2019
In Sympathy
"DeShawn Bohannon Hightower, & family, please accept my condolences in the loss of your loved one. I pray that God wraps His loving arms around you, & surrounds you with those who will love & support you during this time. DeShawn, you are a true testament to the woman that your grandmother was. And while I did not know her personally, YOU exude & embody all that she was. I remember you always speaking so lovingly of her. Praying for you, my friend.🙏💔"
» Vivian Taylor-Dixon on January 12, 2019
Beautiful Angel
"My prayers and condolences to the family on the home going of such a beautiful lady."
» Lula Green on January 11, 2019
Condolences
"Prayers of comfort to the Hightower family on behalf of my family. Earth has no sorrow that heaven cannot heal."
» Evangelist Bridget Sharpe on January 11, 2019
In memory
"I was so very blessed to have had the chance to know this wonderful lady and her loving family. They were a true picture of what God asks of us and they carried his word and work forward in the love they had for Ora. She will be missed by all who knew her and worked with her. I am comforted by the knowledge that she is home in Heaven with our Father and Savior Jesus Christ. May the Lord watch over her family and also comfort them in this time of grief. In his name and his glory---Amen"
» Jill Hetmanski on January 11, 2019
A Great Honor
"To have witness true pure love, honor and deacation Deshune from you to your grandmother filled me with so much joy. Thank you for choosing me to be by Cousin Lee and your side at the most tenderous time in both of your life's , and it was a honor for me to Cousin Lee caregiver, she was a delightful person. Janice M. Hill-Wright "
» Janice M. Hill-Wright on January 11, 2019
Sign the Guestbook
---