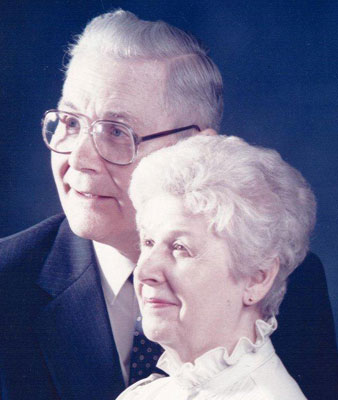 HELEN GARANCOVSKY
"Together Again"
POLAND – Funeral services will be held at 12:30 p.m. on Thursday at the Kubina-Yuhasz-Wasko Funeral Home in Boardman and at 1 p.m. at St. Columbia Cathedral for Helen Garancovsky, 90, who passed away Saturday afternoon.
Helen was born July 8, 1928, in Youngstown, a daughter of the late Michael J. and Mary A. Jakubko Beney.
Helen graduated in 1947 from Chaney High School. She worked for G.M. McKelvey Company and also for the Home Mortgage Company. She then became a full time homemaker.
Helen leaves behind to cherish her memory, her son, Mark, and several nieces and nephews.
Other than her parents, she was preceded in death by her beloved husband, Frank A. Garancovsky, whom she married July 14, 1949, and who passed away on Jan. 13, 2016; her brothers, Stephen, Michael, and Paul Beney; and her sisters, Margaret T. Beney and Mary Ann Loncar.
Helen's family wishes to send a special "Thank You" to Dr. Sudershan Garg, Dr. Armand Minotti and Dr. Sahadev Reddy, along with the staffs of both Mercy Health ICU at St. Elizabeth Boardman Campus, and Beeghly Oaks Center for Rehabilitation and Healing for their compassionate care of Helen in her time of need.
The Garancovsky family has entrusted their loved one to the care of the Wasko Funeral Home and will receive family and friends on Wednesday afternoon from 2 to 5 p.m. at the Kubina-Yuhasz-Wasko Funeral Home, 5925 Market St. in Boardman.
If you wish to extend a material contribution in Helen's memory, please make it to the charity of your choice.
Visit www.waskofamily.com to view this obituary or to send the family condolences.
Guestbook Entries
My deepest condolences
"Now is Helen's time to rest...may Jehovah God the God of all comfort...comfort her family and friends in this time of need...2 Corinthians 1:3,4"
» KMB on January 18, 2019
Thinking of you during this difficult time
"Mark, Nancy and I send our deepest condolences to you during this difficult time. This is a beautiful picture of your parents. Your mom was very kind and loving. She was a joy to be around when we were in town. You were a very loyal, caring, loving son. We will be thinking of you. William (Bill) and Nancy Demidovich and families. Columbus, Ohio"
» William and Nancy Demidovich and family on January 2, 2019
Sending our deepest sympathy ❤️
"Dear Mark, Steve and I send you our deepest sympathy. Your mother was a wonderful person! We will always remember her. May she Rest In Peace . "
» Cathy Ferenchak on January 2, 2019
SYMPATHY
"Sorry for your loss Mark, Lee and I extend our heartfelt sympathy to you and yours. May She Rest in Peace."
» AL MORAN on January 1, 2019
Very Sweet Reunion in Heaven
"Mark, I love this portrait of your loving parents. They look like angels. You took such good care of them both. I am very proud of you. Love, Andrea"
» Andrea Barker on December 31, 2018
Sign the Guestbook
---