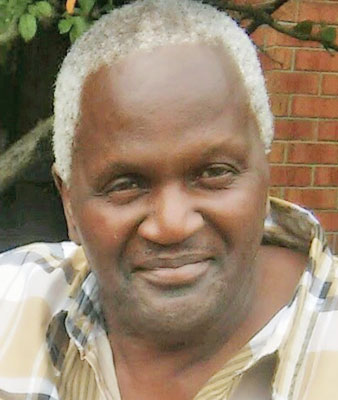 BOBBY E. EZELL SR
YOUNGSTOWN – Bobby E. Ezell Sr., 67, exchanged this life for eternity peacefully early Wednesday morning, Feb. 6, 2019, surrounded by loved ones, in the care of Hospice House Mercy Health.
Bobby, who was also known as "GunYun," was born April 29, 1951, with a twin sister, Barbara Anne Ezell, in Bay Minette, Ala., the son of Eddie And Elnora Ezell. Bobby was a longtime Youngstown resident.
He was a 1969 graduate of Douglasville High School in Bay Minette, Ala.
Bobby married his wife, Alice L. Cade, on Nov. 2, 1971, and they relocated to Youngstown, where he begin working at Youngstown Sheet and Tube, and Republic Steele for the next 10 years. After the closing of the steel mills, Bobby went to work at Southside Hospital until they closed in 1994.
Bobby enjoyed fishing and working on cars, and he also loved to make people laugh, along with spending time with his family.
He leaves to cherish his memory, his loving and devoted wife, Alice Ezell; his daughter, Michelle (Antwan) Brown of Youngstown; his mother, Elnora Ezell and stepmother, Alberta Ezell, both of Bay Minette, Ala.; his siblings, six sisters, Celestine Gaines of Bay Minette, Ala., Barbara Ann Horace of Chicago, Alice (James) Williams, Carolyn (Tony) Bolar, Joyce (Alfred) Valree and Janice (Van) Brown and a brother, Marion (Mary) Ezell, all of Bay Minette, Ala.; six grandchildren, Amanda Olsen of New York, JaQuez Ezell-Brown, Roux Je' Ezell, Ezell L. Brown, Antwan Brown Jr. and LaNivea Brown, all of Youngstown; three great-grandchildren, JaLayah and JaSiyah Brown, both of Youngstown, and Karisma A. Brown of New York; a special niece whom he helped rear, Jackie Ezell of Youngstown; and a host of other family and friends.
Bobby was preceded in death by his son, Bobby E. Ezell Jr.; a daughter, Tiffany L. Ezell; his father, Eddie Ezell; mother-in-law Pricillar McQuiter; a niece, LaTasha McCall; and two nephews, Telly B. Ezell and Timothy L. Horace.
Bobby will be greatly missed by his family and friends.
The family would like to give a special thanks to the Mercy Health Family, to all the churches and pastors for their support and also everyone for all your graceful prayers and visits during their time of comfort and needs.
Funeral services will be held in Bay Minette, Ala., under the direction of the Baldwin Community Chapel Funeral Home.
Local arrangements entrusted to the F.D. Mason Memorial Funeral Home, Inc.
Guestbook Entries
condolences
"Bobby was one of my Medicare customers. I met him at Gleaners food bank on Pyatt Street in Youngstown. He was always very kind to me and bubbly and full of life. Very sad to hear of his passing please accept my condolences. "
» Mike Shaffer on March 4, 2019
Sorry for your loss
"To the family of Booby I'm deeply sorry for your loss. In the Bible it says at Rev 21:4, And he will wipe out every tear from their eyes, and death will be no more, neither will mourning nor outcry nor pain be anymore. The former things have passed away. "
» Quincy Hall on February 17, 2019
With deepest sympathy
"To the Ezell family, I was saddened to hear about the passing of Bobby. Whenever I was in his presence he surely put a smile on my face and made laughter come out of my mouth. I'm going to miss seeing that crazy man around. I love all of you."
» Cynthia F. Davis on February 17, 2019
Condolences
"Alice you and your family have my deepest condolences and prayers! The last time I saw the 2 of you he was clowning as usual! You have lost the love of your life but the memories will last forever! I love you🙏🏼❤️🙏🏼"
» Debra Jones on February 16, 2019
Our Deepest Sympathy
"To Alice and family , you have our deepest condolences. Bobby was not only a friend but family. I can always count on him and he always knew how to make us laugh no matter the situation. We will sure miss him. We are here for you. Punkin and family"
» Punkin Martinez and Family on February 16, 2019
My deepest sympathy
"Going to miss ole Bobby the bear always had us Rollin real good dude sorry Alice and shell for the loss of your husband and father may he forever rest in peace"
» Charlene Jones on February 12, 2019
Reminiscences
"Ezell Family: Bobby holds a special place, in Heaven, for healing our hearts with humor. That void, on Earth, is irreplaceable. We're encouraged in these memories. He's smiling upon us, now, in Heaven, which we look to, and our strength always comes. Luvu guys."
» Darryl Adams/George Austin on February 12, 2019
To Mrs. Alice, Michelle & The entire Ezell Family
"Mrs. Alice and Michelle we are sending love your way during this time. Mr. Bobby was a Firecracker! I'm gonna miss his loud mouth on the block and him leaving our newspaper on the porch. May God keep you and give you comfort at this time. God bless. "
» Your Neighbor Family "The Smith's" on February 12, 2019
Ms.
"My deepest condolences, prayers, comfort, & strength to Mrs. Alice, Chelle and the Ezell Family!!!🙏🏽🙏🏽🙏🏽❤️😘"
» Nikki Dawne Anderson on February 12, 2019
Praying
"ALlice/Chell Our prayers go out to you and your family. Bobby is going to be truly missed. Be sad as you may, but knowing that God's plan is to join him in heaven, for eternal life. We love you and we will continue pray for your strength. From Butter/Jeanette Gilliam and Family."
» Bill Gilliam on February 12, 2019
Rest Easy Up Younder Bobby
"I send my condolences my love my heart an my prayers an I pray that god give the family Strength SLEEP PEACFULLY Bobby❤"
» Kelly Woodberry on February 11, 2019
Uncle Bobby
"hurt no more uncle Bobby and I'm sorry for your loss Aunt Alice."
» Taka Allen on February 12, 2019
To the family
"Sorry for your loss. Praying for everyone"
» Loretta Stevens on February 12, 2019
Sympathy
"We the Nurses Ministry of Messiah Temple M.B.C of Chicago Illinois, sends our deepest condolences to our very own Sis Barbara Ann Horace. We pray that God will give you the strength and comfort that you will need during your time of bereavement. God bless you and may heaven smile upon you ❤️ Sis Harriet Brackenridge Carey, Nurses Ministry President Dr. Keith B. McGee , Pastor "
» Harriet Brackenridge Carey on February 12, 2019
My Deepest Sympathy
"I'm very sorry for your loss Alice, I will be praying for your strength in the Lord."
» Cheryl "Sherri" Cox on February 12, 2019
Sympathy
"Prayers to Alice and family,so sorry for your loss, Bobby was family to me , he was a uncle who taught me how to walk when i was a lil girl. Love you always and forever , may you rest in heaven !! "
» Porcha on February 11, 2019
Joyce Valree , Dorinda Ezell Stabler , and Ezell Family
"We extend our deepest condolences to the Family. Praying for you and your family. May God Strengthen and Give You Peace is our Prayer. "
» Howard & Althia Carleton on February 11, 2019
Praying
"Sorry for your loss"
» Joi howell on February 11, 2019
To the Ezell family
"Rest In Peace uncle Bobby. I'll never forget you. Every time you visited us in Philly you keep a smile on our face, you had us all laughing out loud. Indeed you was a funny man. My your soul Rest In Peace. Ezell family you're all in my thoughts and prayers. God bless ~ Sheila (Elmira daughter)"
» Sheila Crenshaw on February 11, 2019
To the Ezell family:
"Praying that God gives you strength during this difficult time. We love you & God bless!"
» Mr. & Mrs. Cametrius Adams on February 11, 2019
Sympathy
"Alice, I am so sorry to hear this sad news, keeping you and your family in prayer,"
» Martel allen on February 11, 2019
Sign the Guestbook
---