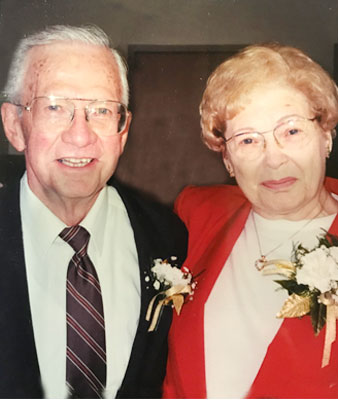 WILLIAM H. 'BILL' FORNEY
"Together Again"
NORTH JACKSON – William H. "Bill" Forney, 92, transferred to his heavenly home on Saturday, Aug. 10, 2019, at Antonine Village in North Jackson.
He was born Aug. 6, 1927, in Youngstown, the son of the late William Edward Forney and Mildred (Riddle) Forney.
Bill served in the U.S. Army from 1945 to 1946 at Geiger Field in Washington. He attended Youngstown College - the School of Engineering. He retired as Foreman Mechanic at Browning Ferris Industries after 34 years.
Bill drove late model stock cars for 20 years at local tracks such as Canfield and Sharon Speedways. He also drove at Heidelberg, Cloverleaf, Painesville, South Park, Sportsmans Park, Akron Rubber Bowl, Orrville, Hickory, Sandusky, CNE Track in Canada and Raceway 7. He was the only seven-time champion at Canfield Speedway between 1959 - 1968, as well as the 1964 champ at Sharon Speedway. He was inducted into the Cloverleaf Hall of Fame in 2009 and the Twin State Auto Racing Club Hall of Fame in 2010.
Bill also loved traveling. He and his wife of 60 years, Martha, visited 48 of the continental United States. During his retirement, Bill drove cars to and from auction for local car dealers, enjoyed fishing, walking, reading, spending time with family and visiting nearby casinos.
He was a member of the Central Christian Church in Youngstown and in recent years The Paul Easton Church at Glenellen. While at Central, he served as a Deacon, and Trustee and assisted in maintaining the church van.
In addition to his parents, Bill was preceded in death by his wife, Martha R. Edgerton, who died Oct. 9, 2010, and a sister, Trudy M. Forney of California who died Dec. 31, 2017.
He is survived by a son, William Michael (Colleen) Forney of Winter Garden, Fla.; a daughter, Anita (Craig) Carson of Boardman; a granddaughter, Jenn (Adam) Kusiak of Winter Garden, Fla.; a granddaughter Sarah (Moses) Chun of Austin, Texan; and two great-granddaughters, Taylor and Kallie Kusiak of Winter Garden, Fla. He is also survived by a sister-in-law, Mary Pesut; and brother-in-law, Ed Edgerton, both of Poland; a sister-in-law, Eileen Edgerton of North Ridgeville; and several nieces and nephews.
The family would like to thank Sister Dolly and all of the staff at Antonine Village for their very compassionate care and Crossroads Hospice nurse Mary and Chaplain Lori for their tender care during Bill's transition to his "new home."
There will be calling hours at the Davis-Becker Funeral Home, 8536 Market St. in Boardman from 5 to 8 p.m. on Friday, Aug. 16, 2019. The funeral service will be held in the Chapel of the funeral home on Saturday, Aug. 17, 2019, at 1 p.m., with visitation from 12 to 12:45 p.m. prior to the service.
In lieu of flowers, the family encourages contributions in Bill's memory to The Antonine Village, 2675 N. Lipkey Road, North Jackson, OH 44451.
Visit www.beckerobits.com to send condolences.
Guestbook Entries
Legend
"As a child, my family and I would go to the Canfield races and Bill usually won. Me being 5 or 6, "Bill Forney" was an international sports legend in my mind, up there with Willie Mays and Jimmy Brown. My parents knew him and said he was a great guy."
» Kris West on August 14, 2019
Sign the Guestbook
---