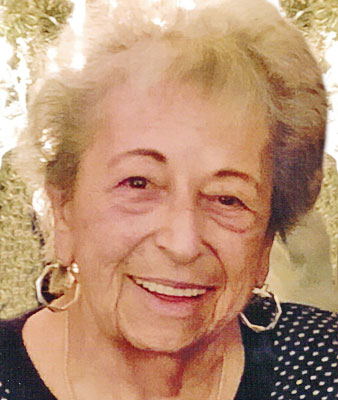 ROSE MARY CICERO HANSHAW
LORDSTOWN - The family of Rose Mary Cicero Hanshaw gives thanks to God for the gift of her long and happy life which came to an end on Sunday, Aug. 11, 2019, at Mercy Health St. Joseph Hospital at the age of 81, surrounded by her loving family.
Born Aug. 12, 1937, in Warren, Rose was the daughter of Nicholas and Carmella Nardo Cicero.
As a devoted wife, mother, grandmother and great-grandmother, Rose's family meant everything to her.
She was a licensed beautician for many years, working for Helen Accordino's Beauty Salon. She later worked as a cook at her cousin and godfather's grocery store: Cicero's Market in Niles. During those years, she built lifelong friendships with many of her co-workers and customers.
Engaging her Italian heritage, Rose enjoyed baking, cooking and Sunday macaroni dinners with her entire family. She always looked forward to family celebrations for birthdays and holidays. She loved yardwork as well as working in her flower beds.
She was a graduate of Niles McKinley High School, Class of 1956, and was a lifelong member of Our Lady of Mount Carmel Parish in Niles. In her younger years, she was active at working the parish festival in the sausage booth as well as being a part of the ladies auxiliary group who cleaned the Church before the celebrations of Christmas and Easter and special events.
On June 13, 1959, Rose married the love of her life, Marvin Hanshaw, who died June 4, 2018, and during their 58 years together, they enjoyed the love and joy that family brought to them.
She will be deeply missed by three sons, Deacon Michael Hanshaw and his wife, Stacey, of Liberty, David Hanshaw of Lordstown and Frank Hanshaw and his wife, Jessica of Howland.
Her grandchildren brought much joy and pride into Nana's life, as she was affectionately known as, and she delighted in sharing in all of the significant moments of their lives from school sporting events to high school graduations. They include Nick Hanshaw, Kyle Hanshaw, Chance (Jaclyn) Hanshaw, Melissa Hanshaw, Arianna Hanshaw and Nathaniel Hanshaw. Great-grandchildren include Bentley Edward Lane, Madalynne Rose Hanshaw and Braelynn Rae Meely.
Rose is also survived by one brother, Carmen Cicero of Garden Grove, Calif.
She was preceded in death by her husband and parents.
Friends may call on Thursday, Aug. 15, from 4 to 7 p.m. at the Joseph Rossi and Sons Funeral Home in Niles, where the Mount Carmel Bereavement Ministry will conduct prayers at 6:30 p.m.
Mass of Christian Burial will be held at 10 a.m. on Friday at Our Lady of Mount Carmel Church in Niles, preceded by a 9:30 a.m. prayer service at the funeral home.
Burial will take place at Niles City Cemetery.
Arrangements are being handled by the Joseph Rossi and Sons Funeral Home in Niles.
Family and friends can visit www.josephrossifuneralhome.com to light a candle, sign the guest book and send e-mail condolences.
Guestbook Entries
Sign the Guestbook
---