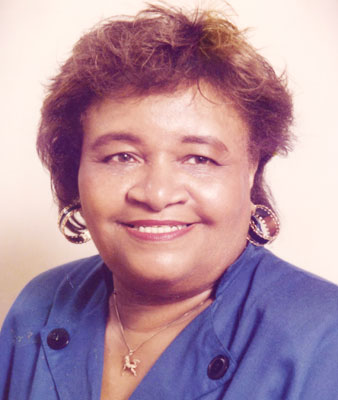 JUANITA M. DAVIS
YOUNGSTOWN – Services will be held at 10 a.m. on Saturday, Aug. 17, 2019, at the New Bethel Baptist Church for Mrs. Juanita M. Davis, 85, who transitioned to her Heavenly home on Wednesday, Aug. 7, 2019, at the Mercy Health St. Elizabeth Youngstown Hospital.
Mrs. Davis was born May 27, 1934, in Youngstown, a daughter of William and Dorothy Powell Winlock.
She was a graduate of The Rayen School and Youngstown State University with a degree in Business Administration. She had worked for over 40 years in the Mahoning County Prosecutor's office, serving as secretary for four prosecutors. She was a member and past president of the Junior Civic League of Youngstown and a member of The Youngstown (Ohio) Chapter of the Links, Inc.
She was a member of the New Bethel Baptist Church, and was its church clerk, chairperson of several church anniversaries, church receptionist, chairperson of the church annual dinner, member of the Executive Board, former usher board member, and a member of the Community Mobilization Coalition. She also served as 3rd Ward precinct Committee person, served as a seasonal employee for the board of elections for 15 years, and was a precinct election official and location supervisor.
Juanita enjoyed cooking and entertaining, traveling, shopping, social card games, especially Bid Whist and Bridge, other social and community activities and services.
Juanita leaves to mourn her passing, but to rejoice in her celestial peace, three daughters, Denise (Tawana) Pusey, Audrey (José) Morales and Angela Davis-James, all of Youngstown; eight grandchildren, including Alicia Davis (William) Cornwell, whom she reared, Ameerah, Jawwaad, Nika, Jose Jr., Roberto, Juanita and Andrea; eight great-grandchildren, British, Dontre, Ava, Victor, Jamaal, Chance, Sa`Mia, Asherah; a host of nieces, including Debra Spencer, Robinette and Cynthia Winlock and Antoinette Frazier; and nephews, including John Winlock and William Winlock III, who were all very close to her; a god-sister, Delores Hall; and other family, church family and friends.
Besides her mother, father and stepmother, William and Catherine Winlock, who raised her from a child, she was preceded in death by her husband, Andrew, who passed away Dec. 25, 1964; her brother, William Earl Winlock Jr.; her sister, Evelyn Winlock Frazier; and a niece, Sandra Mack.
Visitation will be Friday from 5 to 8 p.m., and on Saturday from 9 to 10 a.m. at the church. There will be a memorial service by The Links at 6 p.m. on Friday
Arrangements have been entrusted to the L.E. Black, Phillips and Holden Funeral Home.
Guestbook Entries
Condolences
"Please know that my thoughts & prayers are with you during this sorrowful time. Your mother will be greatly missed. She was such a wonderful person. May she Rest In Peace & May God give you the comfort you need. "
» sandra turnage on August 15, 2019
Condolences
"My cousins: Denise, Audrey, and Angela (Shorty). I can't be there but my prayers are with you in this time of sadness. "
» Constance C. Adger, LTC, US Army on August 14, 2019
Condolences
"She will surely be missed. She always greeted me with a smile and Ina Ina.how is Ina doing. Then ask a out my son. May God grant you peace and comfort. She is at peace. My mom sends her love as well. "
» Ina Madison on August 14, 2019
Sympathy
"My prayers to the Davis family in the passing of your mother. She will truly be missed. May God comfort you and give you strength during this time. Dorothy Turner"
» Dorothy Trner on August 14, 2019
Rest In Peace
"Dear Family: Saddened to hear of Juanita's passing. She would always greet me with her million dollar smile and a kind and encouraging word. Knowing your Mom made my life so much richer. Thank you for sharing her with all of us. May she Rest In Peace In her Heavenly reward. Mayor George McKelvey"
» George McKelvey on August 14, 2019
Deepest Condolences
"Dear Denise, Audrey, Angie and all who know and love Juanita. May God wrap his ever loving arms around you & bring you peace, comfort & strength in Jesus' name. Amen. I would like to say I'm glad to have met Juanita (at Red Lobster) her favorite place from what I recall & to have known the daughters. I have always had admiration for your close knit family!! My Deepest Condolences. John 14: 1-4"
» Rachel Humes on August 14, 2019
Mr
"My prayers to the family in their hour of sorrow. Our two families have been linked for most of my life. I shall always hold Mrs.Davis memories close to my heart. May she now rest in God's loving arms."
» Arnold J Perry on August 14, 2019
I will be there for the family and friends
"I'll keep the family and friends I will be there "
» Richard hess on August 14, 2019
Rest in Peace
"God blessed our family with a such a wonderful woman. Juanita greeted everyone she encountered with a bright smile and she loved her family unconditionally. Juanita showered everyone she met with her grace, wisdom and compassion. I love you auntie and I will miss you tremendously, you will always be with me in spirit. God bless our entire family during our time of bereavement. Thank you Denise, Audrey and Angela for sharing your mom with the world. "
» Robin Winlock on August 14, 2019
RIP
"I love you all so much and I am deeply sorry for your loss I will always love your family "
» Brenda hlebak on August 14, 2019
Sympathy
"Mrs. Davis will be dearly missed. Always a smile on her face and a hug to share. Rest in peace..."good and faithful servant." Love to her daughters and entire family."
» Marlene London on August 14, 2019
Sign the Guestbook
---