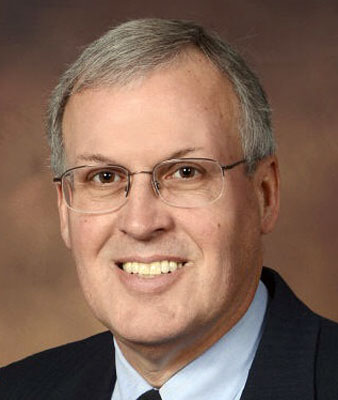 JOHN PAUL DONCHESS JR
YOUNGSTOWN – John Paul Donchess Jr., 64, passed away on Saturday, Aug. 10, due to complications from an auto-immune disease.
He was born on Sept. 28, 1954, in Youngstown, to the late John and Ethel Donchess.
John graduated from Youngstown State University's business school and spent most of his esteemed career as a Principal C.P.A. at Packer Thomas & Co. John devoted himself to his community and YSU, receiving several awards such as the Ohio Association of Community Leaderships' Distinguished Program Leadership Award and the YSU Williamson Business School's Service and Commitment Award. In addition to his many professional accomplishments, John was committed to serving and supporting his family.
John was the loving husband of 43 years to Jody (Zerbonia) Donchess, father to Jeff Donchess (fiance Annie Geary) and Dana (Donchess) Schmit (husband Jason Schmit) and "Papa" to Parker Jo Schmit. In addition to that, he leaves behind his sisters, Debbie Donchess Minkley (John Minkley) and Jan Donchess, as well as many more in-laws, nieces and nephews that John loved as his own.
Family will receive friends starting at 9:30 a.m. on Friday, Aug. 16, at the Dwayne R. Spence Funeral Home, 550 Hill Road N, Pickerington, OH 43147, with a funeral Mass following at 11 a.m. at Seton Parish, 600 Hill Road N, Pickerington, OH 43147.
In lieu of flowers, friends may honor John's life by sending a donation to ATTN: John Donchess Scholarship Fund for Accounting majors, Lariccia School, Williamson Business School/YSU, One University Plaza, Youngstown, OH 44555.
Guestbook Entries
John Donchess
"Dear Jody, Jeff, Dana and family, I just heard from Marcie that John died. Please accept my heartfelt sympathy and condolences. May God bless you all during this most difficult time and the days ahead, as, you learn to live with,yet, another empty chair. May you and your family have the faith, trust, strength, and courage to cope and have hope. Take care. God is holding you in the palm of His hand. Jeanne Hardy. "
» Jeanne Hardy on August 21, 2019
Sympathy
"Dear Jody and Family, Our deepest sympathy to your entire family on the passing of John. May God bless all of you and may John rest in peace with our dear Lord in heaven. Jamey, Denise, Kelly, and Patrick Snyder"
» Denise and James Snyder on August 19, 2019
Sympathy
"Jody and family, so sorry to hear about the passing of John. My thoughts and prayers are with you through this difficult time. Deepest sympathy. Mike and Becca Mancini "
» Becca Mancini on August 15, 2019
Deepest Sympathy
"Jody, Deepest sympathy to you are you family. I was so sad to hear the news of Johns passing. Of the crowd of guys we ran around with at YSU he was one of the good guys. I have vivid memories of the softball, B-Ball games with John and just spending time on campus. I was thrilled to cross paths with him again when his firm became my accountants and auditors at YOH. Thinking of your family at this difficult time. Mark Barabas"
» Mark Barabas on August 14, 2019
Sympathy
"Jody, We are very sadden to hear of John's passing. We couldn't ask for better neighbors and friends. He will truly be missed. Our thoughts and prayers are with you and your family."
» Bob and Cindy Hazel on August 14, 2019
Thinking of John s Family
"Many many years ago, John and I were classmates at St Christine School. He was a very good student and he was also such a very kind person. We didn t go to the same high school but I still remember John. I was so so saddened to see that he has passed away. I just wanted to share this with his Family to help them know how many more people than you know of ...have ...and will continue to remember their Husband and Father and Grandfather. I m sure he was the Best!! With sincere sympathy Lorraine Fabrizi Hardman"
» Lorraine Fabrizi Hardman on August 14, 2019
Sympathy
"Jody, My deepest sympathy to you and your family. I am praying for you. May God bless you and keep you. With Love, Melissa"
» Melissa on August 14, 2019
Sympathy
"Dear Jody, Jeff, Dana and Family, Our deepest sympathy to all of you for the loss of John. We have many good memories of our years as neighbors. We will remember you in our prayers. Sincerely, Rocky & Darlene"
» Darlene and Rocky Schiavello on August 14, 2019
Love to John's family
"Dear Donchess Family, I was saddened to hear of John's passing and wanted to express my sympathies to your entire family. My sister, Ellen, brother, Paul and I grew up on Rosewae Drive, just across the street from John, Debbie and Janice. They were happy years of childhood, and we all enjoyed playing games and catching lightning bugs together! I know that you will miss him. I pray that the Lord's comfort will surround your family during this time. 2 Corinthians 1:3 says, "Blessed be the God and Father of our Lord Jesus Christ, the Father of mercies and God of all comfort." With love, Jean (Weaver) Fenton "
» Jean (Weaver) Fenton on August 14, 2019
Sympathy
"Dear Donchess Family, My deepest sympathy upon John's passing. He was a great person, as I remember him from Ursuline High School. May he have a beautiful everlasting life."
» Anka (Kregar) Krakora on August 14, 2019
Sign the Guestbook
---