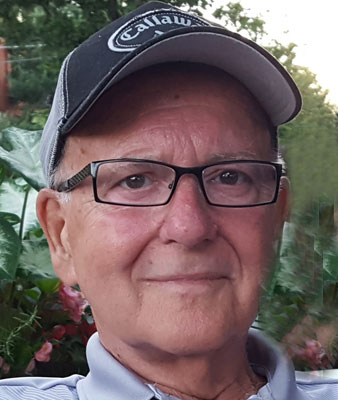 JAMES MARINO
BOARDMAN - James Marino, 72, formerly of Struthers, passed away the afternoon of Thursday, Aug. 8, 2019, due to complications from a hard-fought battle with cancer. He passed peacefully at the Hospice of the Valley Hospice House where he was surrounded by his loving family.
Jim was born Oct. 28, 1946, in Youngstown, a son of Albert and Ann (McCreary) Marino.
Jim graduated from Cardinal Mooney High School in 1965, served in the Army National Guard for six years and entered the trade of carpentry. He went on to work for Struthers School System and Columbiana Schools for a combined 30-plus years. Over the years, he developed strong relationships with faculty, students and administration, touching the lives of many with his outgoing personality, witty comments and willingness to go above and beyond. Anyone who passed through the halls of any school he worked in knew Jim and is sure to have a funny story to tell about him.
In 1967, he married Betty Rovnak Marino of Youngstown and resided in Struthers until 2011 when they moved to Boardman. Together they were an unstoppable team when it came to raising and loving their daughter, Shellie. They were a bottomless source of love and support to family and friends. They both shared the gift of serving others. You could not impose on or inconvenience them with any request; it would be received not only with a "yes," but also with a smile and a joke. Their capacity for love had no bounds.
Jim had a love for playing cards, going to the casino, and traveling to visit his daughter. Everywhere he went he was making new friends and living life to the fullest. He left an impression on everyone who had the privilege of meeting him and has left many people with great memories of their time together. There was never a dull moment when Jim Marino was around; he has left a void in many people's hearts.
James leaves his daughter, Shellie Marino of Atlanta; brother Joe (Carol) Duvall of Austintown; sisters-in-law Helen Walley of Youngstown and Ann (Duke) DiPietro; and brother-in-law George Rovnak of Poland. He also leaves behind several nieces and nephews, many of whom he was very close with.
In addition to his parents, James was preceded in death by his wife, Betty; sisters-in-law Martha Prosser and Veronica Zetts; and brother-in-law Richard Rovnak.
Per Jim's wishes, there will be no calling hours or funeral services.
As a tribute to him and his legacy of making a positive impact in the lives of others, his family has established the Jim "The Janitor" Marino Scholarship Fund. The scholarship will be awarded annually to deserving Columbiana High School students pursuing post-secondary education.
In lieu of flowers or gifts, Jim's family requests that monetary donations be made to this scholarship fund. Please send donations to Columbiana Schools, Attn: Treasurer's Office, 700 Columbiana Waterford Road, Columbiana, OH, 44408. Please make checks payable to Columbiana Schools and notate in the memo: Jimmy Marino Scholarship Fund
Arrangements are by the Kirila Funeral Home Inc. in Struthers.
Guestbook Entries
Sympathy
"Shellie, so sorry for the loss of your father. I sure miss him so much as he was so good neighbor in our condo. He was such a good helper because I was only deaf lady in that area. I dearly miss both of him and his wife. My very deepest sympathy goes to. May God comfort you and your families. "
» Shirley Graham on August 15, 2019
.
"May God bless you and your family!"
» Dee Williams on August 15, 2019
May God Give You Strength
"Our prayers are with you and for your family in the loss of your Father. We know he is with our Father."
» Miriam James-Miller on August 15, 2019
One of a kind
"My guy!! One of the best in so many ways. He loved his family and his extended family very much. He would do anything for kids! Somehow we always found each other during the day to share a laugh. Rest In Peace, my friend. I love you. "
» David cappuzzello on August 15, 2019
Prayers and thoughts are with you
"Sorry to hear of your loss. Your father was a great man. It was a pleasure getting to know him as we grew up in Struthers. He will be missed."
» Duane Seaborne on August 14, 2019
Condolences
"He was the kindest, sweetest most giving person I met! My children and I adored him."
» Leanne Lordi on August 14, 2019
So sorry!!!!
"So sorry to all that knew & loved him! He was one of the nicest & fun people to be around! May his sweet soul rest in peace!💕💕💕"
» Kathy Roncone on August 14, 2019
A kind man with a big heart
"So sorry for the loss of a very kind and loving man. He will be surely missed but not forgotten. I always loved seeing his smile every morning when I was going to school. He was always easy to talk to. I am greatfull that my children also got to know him just like I did. May he rest in peace and perpetual light shine upon him. Again Thoughts and Prayers for the family."
» crissy chesney stilson on August 14, 2019
Sympathy
"Shellie, I'm so very sorry for your loss. My prayers are with you in this difficult time!"
» Jodi Jorgensen on August 14, 2019
Sorry for your loss
"Joe so sorry for the loss of your brother."
» Joe Chesney on August 14, 2019
Deepest Sympathy
"Shellie, We were so sorry to hear of your Dads passing and send our Prayers of comfort to you and the family. May all those wonderful memories of your dad and mom bring you comfort and peace through the coming days. We will miss seeing Jimmy on our visits back home each year and know for sure he will be missed by his buddies and friends in his community . Prayers and Peace for you, Tony and June"
» Tony and Junemarie Navy. (FL) on August 14, 2019
First detention at Mooney HS
"I received my first detention at Cardinal Mooney in Mr Campbell's class. It was Jimmy Marino and his antics that had me laughing uncontrollably. God's blessings to his family and friends....!! "
» Michael V McGarry on August 14, 2019
Sign the Guestbook
---