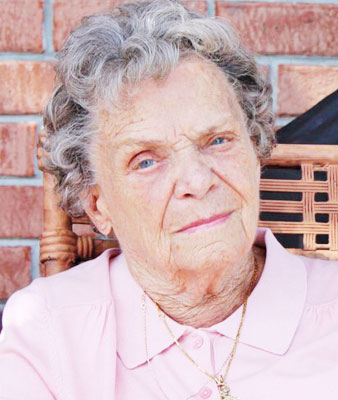 HELEN DAUBENSPECK ECKERT MURRAY
PENSACOLA, FLA. - Helen Daubenspeck Eckert Murray, 98, formerly of Boardman, died Saturday, Aug. 10, 2019, at the Bayside Health and Rehabilitation Center in Pensacola.
Helen was born April 25, 1921, in Youngstown, a daughter of John and Florence (Kennedy) Daubenspeck.
She had lived in the area most of her life, but had spent the past eight years in Pensacola with her son, where many fond memories were made with her great-grandchildren.
She was a graduate of South High School and had worked in customer service for the G.M. McKelvey Company in Youngstown for several years. She was a member of the St. Charles Borromeo Catholic Church in Boardman.
Helen will be remembered as a terrific dancer and was an avid golfer and card player. She had been a member of the former Leffingwell Country Club, the Bears Club, the Saxon Club and the Saxon Club Women's association.
Her first husband, William F. Eckert Sr., whom she married in 1944 died in 1989. Her second husband, James Murray, whom she married in 1995 died in 1998.
She leaves her daughter, Maribeth (Robert) Campana of Boardman; her son, William F. (Suzanne) Eckert Jr. of Pensacola; four grandchildren, Renne Spinrad, Ken Johnson, Matthew Eckert and Meghan Barter; four great-grandchildren, Sean Johnson, Will Barter, Emily Eckert, and Jackson Barter; and many nieces and nephews.
Besides her parents and her husbands, Helen was preceded in death by her sister, Rita M. Miller, and her brother, John A. Daubenspeck Jr.
A funeral Mass for Helen will be offered at 11 a.m. on Friday, Aug. 16, 2019, at the St. Charles Borromeo Church in Boardman, with Father Gerald DeLucia officiating. Friends may call one hour prior the Mass at the church.
Interment will follow at Forest Lawn Memorial Park, Boardman.
Helen would want all of her family and friends to never miss a chance to dance.
Arrangements are being handled by the Davis-Becker Funeral Home in Boardman.
Visit www.beckerobits.com to send condolences.
Guestbook Entries
My deepest sympathy
"Both of my grandmothers, Kay Bakalik & Helen Golden, were great friends with Helen Eckert. I have great memories of their Bear's Club outings, summer picnics, and holidays spent together. What a joy she was. I'm sure she and my Grandma Bakalik are enjoying a round of golf and a highball in heaven. My deepest sympathy. "
» Beth Morell on August 21, 2019
Deepest Sympathy
"Sorry for the loss of your mom, many fond memories while growing up of her and your dad. Unfortunately we will be out of town for the funeral. Our deepest condolences. Linda and Tom"
» Linda Pregi on August 15, 2019
Deepest Sympathy
"My deepest sympathy to the family. My Mother and Father, Agnes and Bill Wagner, were members at Leffingwell, golf and socialized with Helen. Perhaps they will meet again for another round. "
» James Wagner on August 14, 2019
Sympathy
"My deepest sympathy to all. I had the pleasure of golfing and partying with this lovely lady. Always enjoyed being in her company. She left us with some great memories. RIP Helen"
» Joyce Aey on August 14, 2019
Sign the Guestbook
---