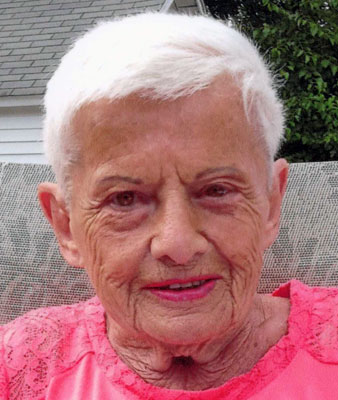 ELIZABETH 'BETTY' KOTEL
YOUNGSTOWN – Elizabeth "Betty" Kotel, 96, passed away Sept. 21, 2018, at her home surrounded by her family.
Betty was born Sept. 16, 1922, in Greenville, Pa., to Emil and Veronica (Brestowanski) Minarovich.
She was a parishioner of Our Lady of Sorrows-Holy Name Church and attended grade school there, and she graduated from Chaney High School.
She was a steel inspector and riveter at Truscon Steel where they manufactured aircraft parts during World War II.
Betty also worked at Weatherbee Coats in downtown Youngstown for 22 years, was president of the union, and she had a second job at St. George Croatian Club in Youngstown on Vestal Road where she retired from at the young age of 79.
She was a member of the Bo No We Club that started in 1945, as their husbands were serving in the war. The club lasted until 2016.
She loved to cook and her kolachi was second to none. She also enjoyed traveling, gambling, shopping, but most of all spending time with her family.
Betty is survived by her sons, Dennis (Bernadette) Kotel of Austintown and Richard (Paula) Kotel of Canfield; daughter Deborah (Steve "Beau") Lesko of Youngstown; grandchildren Terri (Andy) Bell, Jeff (Cheryl) Kotel, Keith (Jennifer) Kotel, Ashlee Iannucci, Dominique Iannucci, Jeanette Lesko, Trisha (Jason) Furrie, Michele (Chris) Inglis, and Jennifer (James Claccio) Rizer; great-grandchildren John Billec IV, Jeffrey (Megan) Kotel, Erica Kotel, Andrew Bell, Erin Bell, Gabriella Cayson, John Cayson Jr., Layla Cayson, Danny Inglis, Ramone Peterson, Paige Furrie, Cole Furrie, and Bella Furrie; great-great-grandchildren Camden, Milena and Kendall Kotel; and her great-great-granddog, Joseph.
She was preceded in death by her sisters, Marie Simon, Sarah Berdis, and Rose Puhalla, and brothers Gabe and Vince.
Calling hours will be from 5 to 7 p.m. on Tuesday, Sept. 25, at the Vaschak-Kirila Funeral Home in Youngstown and the funeral will be Wednesday at 11 a.m. at the funeral home.
The family would like to thank Grace Hospice for the wonderful care and support they provided.
Visit www.vaschak-kirilafh.com to view this obituary or to send condolences to the family.
Guestbook Entries
Aunt Betty
"Love you, Aunt Betty!"
» Sharman Sim9n on September 24, 2018
Deb and Family
"Sorry to learn of your mom's passing. I hope you are finding peace and comfort with the memories of good times you shared with her. Annette "
» Annette Grahovac on September 24, 2018
Sympathy to the Kotel Family
"Sorry to hear of the passing of Betty. She & the Bo No We club were an important part of my mom's life. I like to think that the members are getting together in Heaven and playing cards with their friends in the new forever club. My thoughts and prayers are with you. Patti (Irene's daughter)"
» Patti (Hlasta) Green on October 1, 2018
My deepest condolences
"Now is Elizabeth's time to rest...may Jehovah God the God of all comfort...comfort her family and friends in this time of need...2 Corinthians 1:3,4"
» KMB on October 16, 2018
Sign the Guestbook
---