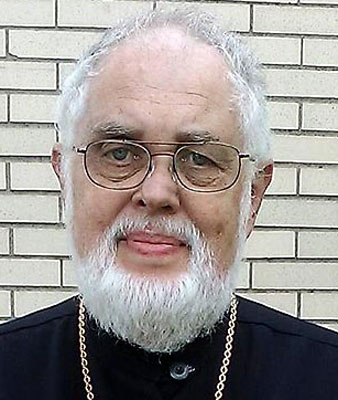 VERY REV. JOHN W. HARVEY
YOUNGSTOWN - Very Rev. John W. Harvey, 73, pastor of SS. Peter & Paul Ukrainian Orthodox Church in Youngstown, passed away peacefully Tuesday evening, Sept. 11, 2018, at Hospice House, with his fellow priests and his family by his side.
Father Harvey was born Jan. 21, 1945, in Our Lady Queen of Angels Hospital in Hollywood, Calif., and was the son of the late Harold and Dorothy Johnson Harvey.
For the past 11 years, Father John faithfully served the parishioners at SS. Peter & Paul Ukrainian Orthodox Church, since he became pastor of the church July 1, 2007.
He was a 1968 graduate of Duquesne University and of SS. Cyril & Methodius Seminary in Pittsburgh, and earned a doctorate degree in Theology from St. Vladimir Seminary in Scarsdale, N.Y., graduating at the top of his class in 1970. Father John was ordained a priest Sept. 27, 1974, at St. Andrew Cathedral in Jamaica, N.Y.
He taught theology and served many Orthodox parishes throughout America and in Canada, and held several posts before being appointed pastor of SS. Peter & Paul in Youngstown.
Father John was the Dean of the Penn-Ohio Deanery of the Ukrainian Orthodox Church of the USA; was Spiritual Advisor and Director of the Teenage Conference at the All-Saints Camp in Emlenton, Pa.; and was a member and past-president of the Eastern Orthodox Clergy Association of the Mahoning Valley. Additionally, Father John was Adjunct Instructor of Canon Law and Spiritual Theology at St. Sophia's Seminary. He served on the Board of Trustees of Orthodox Christian Mission Center (OCMC); as Rector of St. Sophia's Seminary; and as a Spiritual Advisor to the Ukrainian Orthodox League.
Father John enjoyed and taught folk-dancing, and he enjoyed cooking, especially ethnic foods.
He leaves his wife of 44 years, Deborah R. Johnson Harvey, whom he married Sept. 8, 1974, and his daughter, Irena A. Harvey at home.
Family, friends, and parishioners may call from 6 to 7 p.m., Sunday, Sept. 16, at SS. Peter & Paul Ukrainian Orthodox Church, 1025 North Belle Vista Ave. in Youngstown, where a prayer service will follow at 7 p.m.
Family, friends, and parishioners may also call from 9 to 10 a.m., Monday, Sept. 17, at the church, where concelebrated services will take place at 10 a.m.
Interment will follow at Transfiguration Monastery in Ellwood City, Pa.
Arrangements have been entrusted to Kinnick Funeral Home, 477 N. Meridian Road, Youngstown.
In lieu of flowers, Father John's family suggests that donations be made in care of the funeral home to help with final expenses.
Please visit kinnickfuneralhome.com to view and share this obituary, and to send condolences online to Father John's family.
Guestbook Entries
Memory Eternal.
"We loved Fr. John......Vichnaya Pamyat!"
» Michael Walkowiec & Family on September 14, 2018
My deepest condolences
"Now is John's time to rest...may Jehovah God the God of all comfort...comfort his family and friends in this time of need...2 Corinthians 1:3,4"
» KMB on September 28, 2018
Sign the Guestbook
---