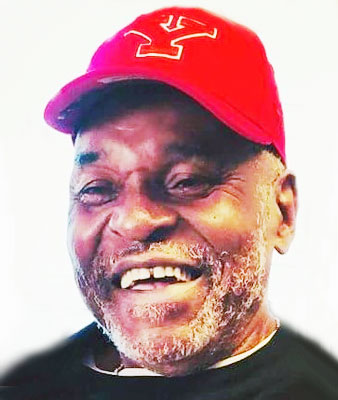 OSCAR LEE SANDERS JR
HOUSTON – Mr. Oscar Lee Sanders Jr. departed this life on Sunday, Sept. 9, 2018, at his home surrounded by loving family and dear friends.
Mr. Sanders was born Dec. 1, 1945, in Butler, Ga., a son of Oscar and Mollie B. Sanders.
In 1946, the family moved to Youngstown, and Oscar graduated from South High in 1965.
Mr. Sanders went to work for Youngstown Sheet & Tube. In 1966, he married Doris Halliburton and later moved to Houston.
Mr. Sanders retired from Sysco Foods in Houston. He was a former member of the Greenspoint Baptist Church and was an active Mason.
He leaves to cherish his memories, four children, George Sanders, Gordon Sanders and Erick Sanders, all of Houston, and Audra Satterwhite of Columbus; three sisters and one brother, Ida Carter, Merdice Sanders, Raymond Sanders and Eunice Barnes, all of Youngstown; his loving partner, Andrea Benjamin of Houston; his loving niece, Jonie Brooks (Keith); his nephew, James Tarver (Tammy) of Houston; and a host of grandchildren, great-grandchildren, nieces, nephews, family and friends.
He was preceded in death by his loving wife, Doris A. Sanders; his mother, Mollie B. Sanders; father Oscar Lee Sanders Sr.; and brothers Freddie and Leroy Sanders.
Services celebrating the life of Oscar Lee Sanders Jr. will be held Saturday, Sept. 15, 2018, at the Crossover Bible Fellowship, 12332 Perry Road in Houston. The viewing will be held from 10 to 11 a.m., followed by the funeral at 11 a.m. Interment immediately following the services at Houston Memorial Gardens, 2426 Cullen Blvd. in Pearland, Texas.
Arrangements are entrusted to the Frazier Mitchell Funeral Home.
Guestbook Entries
Missing you!
"I practically knew Oscar Sanders and Doris Sanders all my life through my dad, Kenneth Hopes and Chris Hopes. Oscar and Kenneth came down to Houston, Texas back in the 70s find work and a new life. Their friendship was inseparable and was always there for each other. We were with him and his family during the difficult time and will continue to pray for them. May God continue to keep his hands around the family at this time. We love you, The Wilson Family "
» Crystal Wilson on September 14, 2018
My deepest condolences
"Now is Oscar's time to rest...may Jehovah God the God of all comfort...comfort his family and friends in this time of need...2 Corinthians 1:3,4"
» KMB on September 28, 2018
Sign the Guestbook
---