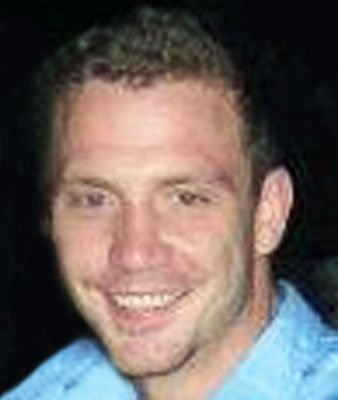 MICHAEL STEPHEN BERRY
BOARDMAN – Michael Stephen Berry passed away from a drug overdose on Sept. 12, at his family's home in Boardman.
Michael was born in Youngstown on April 13, 1988, the son of Stephen and Becky (Mathey) Berry.
Michael attended Boardman Schools and graduated from Boardman High in 2007. At Boardman High he played on the freshman football, basketball, baseball and track teams. He also played youth baseball in the Boardman Little League, Pony League and Youngstown Class "B" League.
Later, he attended Columbus State University and graduated with a degree in construction management. Michael was then employed by J. Ferguson Construction of Weatherford, Texas for three years before forming his own construction company, Berrola Group, with two other partners. During his career in construction, Michael worked on hospitality projects in Colorado, Utah, Texas, Florida, West Virginia, Kentucky, Pennsylvania and Ohio.
He was an avid fan of the Cleveland Browns, Indians and Cavaliers. His interests also included snowboarding in the Rocky Mountains, golfing, yoga and vacationing with his family in Siesta Key, Florida.
Besides his parents, he leaves his sister, Stephanie Berry of Austin, Texas, and grandparents, Kathryn Mathey and Suzanne Berry. He also leaves several aunts, uncles and cousins.
He was preceded in death by his two grandfathers, John Mathey, and Frank L. Berry.
A funeral service will be held at 5 p.m. Saturday, Sept. 15, 2018, at the Davis-Becker Funeral Home in Boardman. Friends may call from 3 to 4:45 p.m. prior to the services at the funeral home.
Visit www.beckerobits.com to send condolences.
Guestbook Entries
So Sorry
"Devastated to hear of Mike's passing. My sincere condolences to the Family. I met Mike at Treehouse and we became fast friends. He was a bright funny guy with a sharp tongue and a quick wit...we had a lot of laughs."
» john mcgovern on May 10, 2019
Sorry for your loss
"When my son over dosed I kept reading John chapter11 for comfort isa25;8 God says he will wipe out every tear from our eyes! "
» Joyce l peterson on September 14, 2018
Sympathy
"My deepest sympathy on your loss..May God comfort you in this most trying time"
» Bill Mounts on September 14, 2018
Dear Berry Family
"So very sad to hear about Michael and will remember Michael and your family in my prayers."
» Teresa Bartoszek on September 14, 2018
Our sympathy
"Our hearts go out to you and your family. You are in our thoughts and prayers. Hoping you can find comfort in the wonderful memories of the good times with your son. Our love"
» Tom and Julie Kamenitsa on September 14, 2018
Loss
"So sorry for your loss. Praying for your family."
» Kathy Grossen-Meyers on September 14, 2018
Deepest Sympathy
"My heartaches for your family. You are all in my prayers. May God's peace be with you all. "
» Sandy Soccorsi-Goldbach on September 14, 2018
Our Deepest Sympathy
"Our deepest sympathy on the loss of Michael. May the wonderful memories you have of Michael give you comfort and guide you thru this difficult time."
» Canfield Athletic Boosters on September 14, 2018
Praying you find Peace at this difficult time 💕
"Becky, we are so very sorry for your loss. Our hearts go out to you and your family. Praying for you all, and hoping you find Peace at this difficult time. "
» Amy and Jeff Miller on September 15, 2018
My deepest condolences
"Now is Michael's time to rest...may Jehovah God the God of all comfort...comfort his family and friends in this time of need...2 Corinthians 1:3,4"
» KMB on September 28, 2018
Sign the Guestbook
---