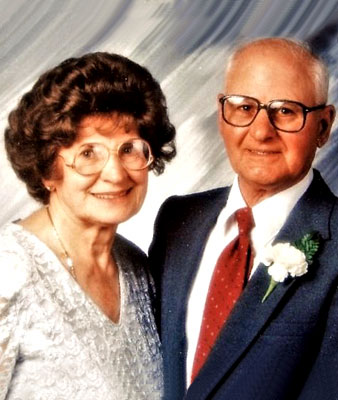 FRANK J. SIMEONE SR
"Together Again"
NILES – Frank J. Simeone Sr, 103, died at 5:05 a.m. on Thursday, Sept. 13, 2018, at Shepherd of The Valley Lutheran Home in Niles.
He was born June 6, 1915 in Youngstown, the son of John and Philomena Billet Simeone
Frank was employed for 38 years at U.S. Steel McDonald Works, retiring in 1977. He was a member of St. Stephen Catholic Church in Niles, and lifetime member of Niles Knights of Columbus Council No. 1681. He enjoyed gardening, playing bocce, and carpentry work.
Frank also was a U.S. Army veteran, serving during World War II, having been stationed in Honolulu, Hawaii.
His wife, Betty Miljevich Simeone, whom he married April 24, 1939, died Feb. 25, 2008.
He will be deeply missed by his daughter, June Dudinec of Niles; his son, Frank J. Simeone Jr. and his wife, Cil of Shelby; three grandchildren, Vince Dudinec and his wife, Jennifer, Linda Marzullo and her husband, Joey, and Lianne Nance and her husband, Nate; and five great-grandchildren, Samantha, Jessica, and, Anthony Marzullo, and Johnny and Jason Dudinec.
He was preceded in death by two brothers, Archie Simeone and Mike Simeone and three sisters, Diane Marapese, Antoinette Simeone, and Jean Perry
Funeral services are private.
Burial will be in Niles City Cemetery.
The family wishes to give a special thank you to Fr. Korda and all his close neighbors who helped.
Material contributions can be made to St. Stephen Catholic Church, 129 West Park Ave., Niles, OH 44446
Arrangements are being handled by the Joseph Rossi and Sons Funeral Home in Niles.
Family and friends may visit www.josephrossifuneralhome.com to email condolences and light a candle.
Guestbook Entries
My deepest condolences
"Now is Frank's time to rest...may Jehovah God the God of all comfort...comfort his family and friends in this time of need...2 Corinthians 1:3,4"
» KMB on September 28, 2018
Sign the Guestbook
---