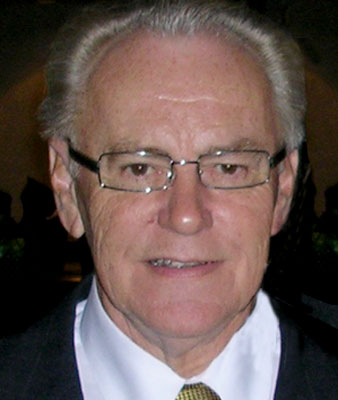 CHARLES EMERSON MAUCH
BOARDMAN - A prayer service will be held on Monday at 9:15 a.m. at the Higgins-Reardon Funeral Homes, Boardman-Canfield Chapel, followed by a Mass of Christian Burial at 10 a.m. at St. Charles Church in Boardman for Mr. Charles Emerson Mauch, 76, who passed away peacefully on Wednesday, Sept. 12, after a brief illness.
Charlie was born on Jan. 12, 1942, a son of Herman and Wilma (Sharp) Mauch.
He graduated from Springfield Local High School in 1960. Immediately upon graduation, Charlie entered the U.S. Army, where he proudly served his country. He was stationed in Germany and other parts of Europe during the Cold War. Charlie was proud of his military service and was honorably discharged in 1964.
Upon the conclusion of his service to our country, Charlie opened up his own real estate brokerage firm, C. Mauch & Company Inc., which he successfully owned and operated for many years. During that time, he taught Real Estate Principles and Practices at Youngstown State University. In the late 1980s he joined the Cafaro Company, where he served as a Senior Leasing Agent. Subsequently, he worked for The DeBartolo Corporation, which later became Simon Property Group, from which he retired in 2006. Upon his retirement, Charlie volunteered his time at the Veteran's Administration on Belmont Avenue.
Charlie was a very patriotic soul and loved his country and the men and women who protect it. He flew a flag at his home every day.
A loving husband, an amazing father and a beloved "Papa," Charlie was happiest when surrounded by his family.
He is survived by his wife of 42 years, the former Elaine Petrony; three children, Tara (Chris) Reuscher, Jon (Christina) Mauch and Dan (Ashley Perry); and six grandchildren, Nicholas, Alexander and Victoria Reuscher, Evan and Morgan Mauch and Maximus Mauch. He also leaves behind his dear sisters-in-law and brothers-in-law, Bonnie and Ron Stoops, Marilyn and Eddy Handel, and John and Mari Petrony; and nine nieces and nephews.
Charlie was preceded in death by his parents and his father and mother-in-law, Frank and Dorothy Petrony.
Family and friends may call on Sunday from 4 to 7 p.m. at the funeral home.
Memorial contributions may be made to the Honor Flight Network, Honor Flight, Inc. Attn. Meredith Rosenbeck, 175 South Tuttle Road, Springfield, OH 45505 or online at www.honorflight.org in memory of Charlie.
Guestbook Entries
My deepest condolences
"Now is Charles's time to rest...may Jehovah God the God of all comfort...comfort his family and friends in this time of need...2 Corinthians 1:3,4"
» KMB on September 28, 2018
Chas - Charlie - Rush
"I just sent Charlie an e-mail to catch up and say hello. When I didn't hear back after a few days, I had a feeling something wasn't right. And then I found this online. I'm so saddened by this loss. And sad that I didn't know in time so that I could have come down to Ohio to pay my respects. My condolences to you, Elaine, and to Tara, Jon and Dan - Charlie always spoke so well of all of you. And condolences to his extended family. I will miss his great laugh and sense of humor. He always "cracked me up". So sad I won't get to catch up with "Chas", as I called him. (Also called him "Rush" as he would always write that on the deal sheets he submitted for legal documentation.) Charlie - you will be missed. A great guy that I got to know and work with at The Cafaro Company. "
» Patti on October 3, 2018
Sign the Guestbook
---