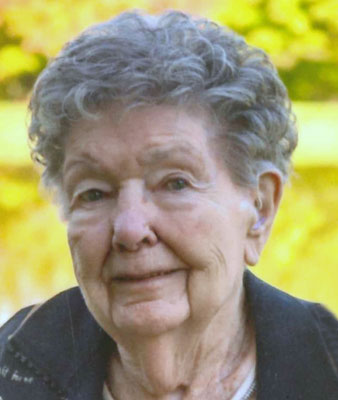 THELMA 'RUTH' BAKER
BOARDMAN – Thelma "Ruth" Baker, 98, passed away surrounded by her family on Friday, Sept. 7, at her residence in Boardman.
Ruth was born June 24, 1920, in Detroit, the fourth of seven children to Archie Burton Sr. and Emma (Hensel) McKay.
Ruth was a 1937 graduate of Hubbard High School. She was only 16 when she graduated and the first of her siblings. She loved sports, and was known as "Speed McKay" as a young basketball and softball athlete. Upon graduating as Valedictorian, she began working as a transcriber at Northside Hospital. Other jobs she held included United Airlines Station Agent, United Airlines Clerical Position, and Sarasota News Society Editor.
She met her husband, David Baker, while working at United Airlines and they married in 1943. Shortly after, her husband, an Army Air Corps Fighter Pilot, was shot down and taken as a Prisoner of War in March of 1944. During that time, to keep herself busy and distracted from worry, Ruth attended NYC Interior Decorating School until word of his release in the spring of 1945. Upon his return home, she nursed him back to health and shortly thereafter they began their family. With three children now, Ruth devoted herself to taking care of them as a homemaker.
As her family blossomed, Ruth found time to do the things she loved such as traveling and tinkering with adventure. She owned a candy store for a short time on the Westside of Youngstown, but her real talent was interior design, specifically drapery. She was a drapery contractor operating her own business for 10 years. During her golden years she also obtained her pilot's license and flew a two seater with her husband until the age of 72. Ruth was diagnosed with breast cancer in her 70s but she beat it and was a 26-year survivor.
Ruth leaves behind her children, Renee (Andy) Snyder of Boardman, Richard (Mary Anne) Baker of New Jersey, and Rolin (Beverly) Baker of Canfield; her youngest sister, Betty Lou (Gordon) Fair of Texas; seven grandchildren; and 10 great-grandchildren and one on the way.
Ruth was preceded in death by her parents; her husband, David; her brothers, Archie Burton "Ozzie" Jr.,  Pete and Albert "Bus" McKay; and her sisters, Mildred Lewis and Louella Powell.
Private services have taken place and Ruth has been laid to rest beside her husband at Forest Lawn Cemetery.
The family wishes to extend their sincere appreciation to many people for their loving care of Ruth. 
Ruth lived every minute of her 98 years, she was a "great lady, who was a jack of all trades."
Guestbook Entries
Hand and foot!
"Thoughts and prayers are with you."
» Judy Williams on September 12, 2018
Mr.
"We are So sorry for your loss. Prayers and Hugs sent"
» Leesa and Chuck Prachick on September 12, 2018
To an amazing lady
"We loved seeing Ruth at the salon when she came in to get her hair done. She always had a smile on her face and I wanted to kiss her every time ❤️ When Rollie and Bobby were young boys he said that Ruth was the nicest lady always made him feel good. We are sorry for Ruth's passing and letting you know she left a sweet mark in our hearts God Bless her and the familys. "
» Robert and Karin Bernard on September 12, 2018
Good neighbor
"I was really glad to get to know Ruth these last few months. She was a good neighbor"
» Kay McKee on September 12, 2018
She will be missed in the old neighborhood.
"Sorry to hear of Mrs. Baker's passing. She was a wonderful person and a really great neighbor. I'm so glad my mother Kay McKee was able to spend some time with her and her family over the past few months. We will all miss her on Wildwood Drive. "
» Rick Mckee on September 12, 2018
So blessed to know her!
"Jack and I were so fortunate to get to know Ruth while visiting Renee in Ponte Vedra, Florida. She always had a smile! She is missed. God bless her beautiful family! With love and prayers, Jack and Maureen "
» Jack and Maureen Harper on September 12, 2018
Thank you
"Gram Bake, as us kids knew her, was always warm and welcoming. Even when the pack came swarming in. I will never forget her. Xo"
» Heather Aley on September 13, 2018
An Amazing Blessing
"Aunt Ruth leaves us with so many great memories of fun, family times at her and Uncle Dave's house. Even as adults, there was much excitement in the air as we drove into Boardman. You always knew you were about to embark on a fun, loving, family experience. The meals, laughter, games, stories, and love will live on forever in our hearts and memories as will our beautiful Aunt Ruth. God has truly blessed us."
» Diann U. Beasley on September 14, 2018
My deepest condolences
"Now is Thelma's time to rest...may Jehovah God the God of all comfort...comfort her family and friends in this time of need...2 Corinthians 1:3,4"
» KMB on September 27, 2018
Sign the Guestbook
---