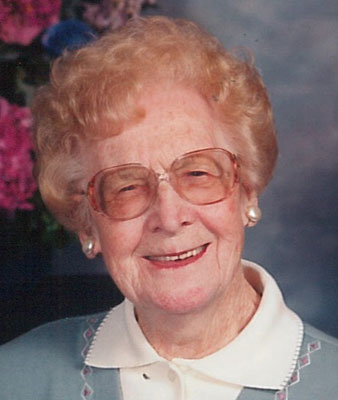 NELLIE BEACH
HUBBARD – There will be services held at 1 p.m. on Friday, Sept. 14, 2018, at the Stewart-Kyle Funeral Home for Nellie Beach, 109, who passed away surrounded by her loving family on Monday, Sept. 10, 2018, at Heritage Manor, in Youngstown.
Nellie was born Nov. 23, 1908, in Yorkshire, England, a daughter of John and Lilly Davis Meadows.
Currently Nellie was believed to be the oldest Hubbard resident.
She was a member of the Central Christian Church of Hubbard where she was a former elder and financial secretary, a member of Rebekah Lodge No. 758 Hubbard and past Noble Grand and Chaplin, and a former president of the Hubbard Manor.
During World War II she was an underwater welder and was proud to help with the war efforts as a "Rosie the Riveter."
Her husband, Everett J. Beach, whom she married Nov. 6, 1929, passed away July 27, 1968.
She will be sadly missed by her family, her children, Geraldine Hallapy and Jeanette Perry both of Hubbard, Leo L. (Mary Ann) Beach of San Antonio, and John J. Beach of Hubbard; nine grandchildren; 15 great-grandchildren; and 22 great-great-grandchildren.
Besides her parents, she was preceded in death by her husband; her infant daughter, Donna Jean Beach; her brother, Jack Meadows; her sister, Bessie Bracket; and her grandson, Gregory May.
There will be calling hours on Friday, Sept. 14, 2018, prior to the service from 11 a.m. to 1 p.m. at the Stewart-Kyle Funeral Home.
Nellie will be laid to rest at Hubbard Union Cemetery.
Special thanks for the loving care given to Nellie at Elmwood Assisted Living, Heritage Manor, and Crossroads Hospice.
Memorial contributions may be made in Nellie's memory to the Central Christian Church, 44 S. Main St., Hubbard, OH 44425 or Crossroads Hospice, 1221 Woodhurst Drive, Austintown, OH 44515.
Family and friends are invited to visit the funeral home's website at www.stewart-kyle.com to share memories and condolences.
Guestbook Entries
best friend
"you came to my door when I moved in on February 29,2008 welcoming me. loved sitting on balcony with Nellie. love you your one of Gods special Angels."
» Nancy Johnson. Hubbard manor on September 12, 2018
Beautiful & Loving Aunt Nellit
"Aunt Nellie, what an amazing women, so proud to be a part of her family. I know you and my mom are together rejoicing with our lord and savior Jesus Christ. To your family, I am so sorry for your loss, please accept my sincere sympathy during this most difficult time. Love you all, Bill Snyder"
» Bill Snyder on September 12, 2018
Beautiful person
"Nellie was a beautiful person and I looked forward to hearing her witty comments. She had a wonderful personality and sense of humor and she will be deeply missed. Our deepest sympathy to her family. Please note that she is at peace and pain free and is looking down at all of us. She truly is an angel and God will watch over her. Rest in peace, Nellie. Josic Carsone and children."
» Josie Carsone on September 13, 2018
Blessed to know you
"To know Nellie was to love her...and we have loved her! We are truly blessed to have experienced her love, her faith, her joy...and that incredible laugh! Welcome home, dear Nellie. 💙"
» Dan and Nancy Harry on September 14, 2018
My deepest condolences
"Now is Nellie's time to rest...may Jehovah God the God of all comfort...comfort her family and friends in this time of need...2 Corinthians 1:3,4"
» KMB on September 27, 2018
Sign the Guestbook
---