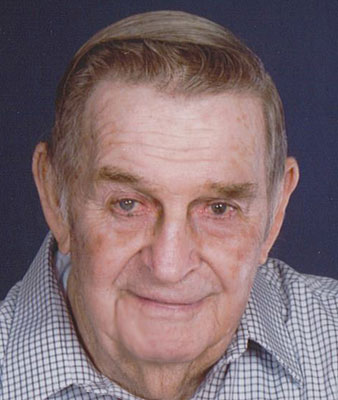 GEORGE L. SHOVLIN
BOARDMAN – There will be funeral services at 9 a.m. on Friday, Sept. 14, at the Rossi Brothers & Lellio Funeral Home, in Boardman, followed by a 10 a.m. Mass of Christian Burial at St. Angela Merici Church (formerly Sacred Heart), in Youngstown, with the Rev. Kevin Peters officiating for George L. Shovlin, 90, who passed away Monday morning, Sept. 10, 2018, at Assumption Village.
He was born March 29, 1928, in Youngstown, the son of Patrick and Emma Louise (Schreiner) Shovlin.
George attended elementary school at St. Joseph's Catholic School where he also served as an altar boy for five years and was a graduate of Woodrow Wilson High School, Class of 1945. George served in the U.S. Army from 1946 to 1949 in Italy.
He married the former Donna Jean Morgan on Nov. 23,1950.
After being honorably discharged from the Army, George worked at Republic Steel and Carbon Lime Stone. In 1955 he started Shovlin Construction where he built more than 1,000 homes throughout the valley, including in Brownlee Woods, Applewood Acres, Tipp Wood Estates, Mt. Vernon Woods, Park Harbor, St. Andrews, Atlanta Suburbia in Georgia, along with Cape Coral and Fort Myers, Florida. George's happiest days in the home building industry and when he was able to help young couples afford their first homes.
George had two hobbies, work and travel. He and Donna were fortunate to vacation in many countries including Ireland, England, Germany, Switzerland, Italy, France, Spain, Hungary, Turkey, The Holy Land, Egypt, Russia, India, Japan, China, Australia, New Zealand, The Panama Canal, Sweden, Norway, and Finland.
George will be deeply missed by his wife of 67 years, Donna; three sons, George (Joanne) of Commack, of Long Island, New York, Paul (Brenda) of Columbiana, and Robert of Poland; 10 grandchildren, Paul Jr. (Sara) of Kentucky, Nicholas (Denise) of Delaware, Steven, William, Donald (Shannon) of Austintown, David, Danielle, Patrick, Colin, and Ian; nine great-grandchildren, Kaylin, Treavin, Brooklynn, Kaitlin, Anna, Nicholas, Hunter, Casen, and Tanner; and sister, Patricia Vlock of Liberty.
He was preceded in death by his parents; three sons, William, Thomas, and infant, Donald; two sisters, Margaret Sweeney, and Mary Catherine Killian; and brother, Paul Shovlin.
Friends may call from 4 to 8 p.m. on Thursday, Sept. 13, at the Rossi Brothers & Lellio Funeral Home, 4442 South Ave. in Boardman.
Family and friends may visit the Book of Memories at www.rossifunerals.com to view this tribute and send condolences to George's family.
Guestbook Entries
Condolences
"We were one of those young couples that had a house built by Mr. Shovlin. We just celebrated 40 years in that home on August 1st!! Our sympathies to the family. "
» Don & Sallie on September 12, 2018
Condolence
"So sorry for your loss. You have many memories of the good times. Prayers for you and your family. Your truly, Carol"
» Mrs. Carol Catauro on September 12, 2018
Condolence
"So sorry for your loss. You have many memories of the good times. Prayers for you and your family. Your truly, Carol"
» Mrs. Carol Catauro on September 12, 2018
Donna and family
"Thoughts and prayers are with you. I think of "Georgie" often--as a Lenox Avenue neighbor and the boy down the street who assembled parts he found in the "dump" to put together a bike for me. It was wartime; bikes were not being made. George sold it to me on credit--$3.00 a week. May you find peace in the memories of the love you shared. Agnes Smith Pavelko Ocala, FL"
» Agnes Smith Pavelko on September 12, 2018
Dear Donna and Families
"Mr Shovlin was my Angel when I was looking for my first home in Boardman. You'll be in my thoughts and prayers."
» Teresa Tamburino Deskin on September 12, 2018
Condolence
"I am so sorry to hear of George's passing. He was a kind and friendly next door neighbor to Tom and I. My deepest sympathy to Donna and family. You are in my prayers."
» Cindy Marchese on September 13, 2018
My deepest condolences
"Now is George's time to rest...may Jehovah God the God of all comfort...comfort his family and friends in this time of need...2 Corinthians 1:3,4"
» KMB on September 26, 2018
Sign the Guestbook
---