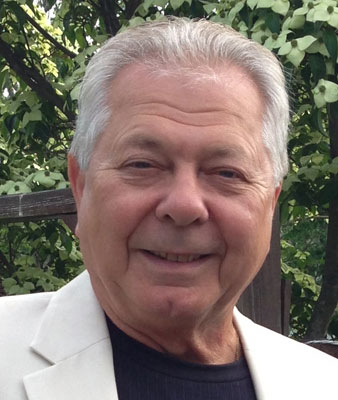 WILLIAM A KOVACHIK
BOARDMAN – Funeral services will be held on Monday, Oct. 29, 2018, at 10:30 a.m. at St. Mary's Byzantine Catholic Church on Bella Vista in Youngstown, for William A Kovachik, 75, who passed away Oct. 24, surrounded by family and friends, after a short illness.
William "Bill" was born July 12, 1943, in Youngstown, son of Paul Kovachik and Anna Fedak Kovachik.
He was a 1962 graduate of Chaney High School and served in the U.S. Army, First Infantry Division, during the Vietnam War, receiving a Bronze Star. He worked as an Artisan for the Mahoning County Sheriff's Department, retiring in 2013. He was a member of St. Mary's Byzantine Catholic Church on Bella Vista and St. John's Episcopal Church on Wick Avenue. He was also a member of Catholic War Veterans Post No. 1292.
Bill loved the Youngstown State University football games and tailgating, golfing and working in his yard.
Surviving are his wife, Mary Jo Kovachik, whom he married March 14, 1981; three sons, William (Christine) Kovachik and Brian (Jessica) Kovachik, both of West Palm Beach, Fla. and Michael (Angela) Kovachik of Irwin, Pa.; one daughter, Allie (Chris) Anzevino of Austintown; one sister, Elizabeth (Richard) Frank of Matlacha, Fla.; six grandchildren; and many nieces and nephews.
He was preceded in death by his parents; two brothers, Robert and Paul Kovachik; and one sister, Helen Evans.
Friends will be received at the Vaschak-Kirila Funeral Home in Youngstown on Sunday, Oct. 28, from 1 to 4 p.m. and again on Monday, Oct. 29, from 10 to 10:30 a.m. at the church.
Please visit www.vaschak-kirilafh.com to view this obituary or to send condolences to the family.
Guestbook Entries
Memories
"So sorry for your loss. Remember all the memories. RIP my friend."
» Rich Chearno on October 27, 2018
Dearest MaryJo
" Jim and i send our deepest heartfelt condolances The loving comittment between you and Bill was so apparent to all who had the pleasure of being in your company. Bill was a loving guy from School to present and a friend to all a prime example as to what frienship meant . God grant him peace rest well my friend see you at the gate love Cheryl and Jim Smith "
» Cheryl Smith on October 27, 2018
Gone, but not forgotten.
"Rest in Peace Bill and may God be with your family as they try to get on with their lives without you. It's a daily struggle that I don't wish on anyone, especially for those that we love. Joe and Linda. "
» Joe Frank on October 29, 2018
Mary Jo and family,
" I'm so sorry for your loss. It was always a great time seeing Bill down at the YSU games and seeing you guys at the reunions. I loved talking to him and hearing stories that had me laughing so hard. He will be greatly missed by many friends and family that had the privilege and pleasure of knowing him! - The Caputo's"
» Nick Caputo on October 29, 2018
MaryJo & Family
"MaryJo and Family, With our deepest thoughts. We loved Bill. Always remember the fun memories that you shared. Tony & JoAnn"
» Tony and JoAnn Costarella on October 31, 2018
Deepest sympathy
"My deepest sympathies to you and you family!!"
» Marcia Pacak on November 1, 2018
Sign the Guestbook
---