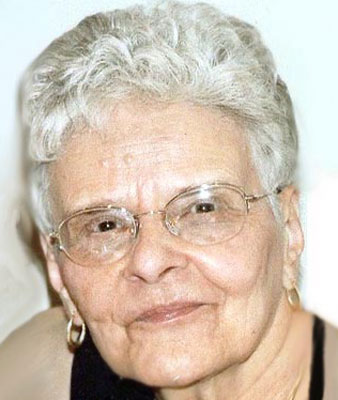 BARBARA J. OLBRYCH
COPLEY - Barbara J. Olbrych, 85, formerly of Youngstown, entered into eternal rest Sunday afternoon, Oct. 21, 2018, following an extended illness.
Barbara was born May 3, 1933, in Youngstown, a daughter of the late Joseph and Katherine Sopkovich Bresko, and lived almost her entire life in this area.
She graduated from Chaney High School and attended Kent State University before marrying and raising her family on Youngstown's west side. Barbara worked outside the home for a few years for SYMS Drug Store, then worked full-time as a customer service representative with Farmers National Bank, from where she retired.
Barbara was a longtime active member of St. Brendan Parish in Youngstown. She was president of the Mother's Guild and of the Altar & Rosary Society, was a reader at Sunday Mass as well as a Eucharistic Minister, and she relished the privilege of bringing Holy Communion to her shut-in friends. She continued to enjoy reading the weekly church bulletin delivered to her home when she was no longer able to attend Mass in person.
Mrs. Olbrych enjoyed raising her children, staying up on current events, and reading fictional books and the daily newspaper.
Barbara is survived by her children, Dr. Thomas G. (Sue Andrea) Olbrych of Akron, Paul A. (Monica Evans) Olbrych of Cortland, and Mary Kay (Nicholas) Kollat of Canfield; five grandchildren, Jonathan, Stephanie, Ali, Evan, and Austin; two close cousins, Attorney Andrew Bresko and Dorothy Vrabel Leone; many nieces and nephews; and many in-laws.
Her husband of 41 years, Albert George Olbrych, whom she married April 23, 1955, passed away Sept. 5, 1996. Besides her husband, she was preceded in death by Michael and Mary Bresko, a special uncle and aunt who raised Barbara.
Barbara's family will share memories of her life with friends and family from 4 to 7 p.m., Wednesday, Oct. 24, at Kinnick Funeral Home, 477 N. Meridian Road, Youngstown.
Funeral services will begin at 9:15 a.m., Thursday, Oct. 25, at the funeral home, and will continue at 10 a.m. with a Mass of Christian Burial to be celebrated at St. Brendan Church.
Interment will follow at Resurrection Cemetery in Austintown, where Barbara will be laid to rest next to husband.
Barbara's children request that memorial contributions be made in her memory to the St. Brendan Church Memorial Fund, 2800 Oakwood Ave., Youngstown, OH 44509.
Please visit kinnickfuneralhome.com to view and share this obituary, and to send condolences online to Barbara's family.
Guestbook Entries
My deepest condolences
"Now is Barbara's time to rest...may Jehovah God the God of all comfort...comfort her family and friends in this time of need...2 Corinthians 1:3,4"
» KMB on November 15, 2018
A good friend
"Hi Olbrych Family. I went to high school with your mom and grandmother. What a gem. A good person she was. Thoughtful of all. We worked on our class reunions togerther having a greattime. Met your dad there. A great guy. She was very proud of her family and let us know so. A great temporary loss to you but eventually you will be reunited. I also know her cousin Dorothy Vrable Leone. Another great family. God Bless May Rest In Peace. Jim Mangie"
» James D. Mangie on October 23, 2018
Sympathy
"So sorry for your families loss. Barbara was a wonderful, kind lady and was such a joy to talk with. I am sure she will be missed. Treasure all your wonderful memories; as I am sure there are many. Prayers with your family."
» State Farm on October 23, 2018
MY CONDOLENCES
"Olbrych Family. I am so sorry for your loss. Your mother was a very special person. I remember visiting My Aunt Julie Nerone on the westside with my family and seeing her. She lived next door and she was always so kind to me and my Mother Elizabeth D'Amico, My Father Carl D'Amico , My sister Barbara and My brother Michael D'Amico. My thoughts and prayers for your family. Lisa D'Amico"
» Lisa D'Amico on October 24, 2018
Sign the Guestbook
---