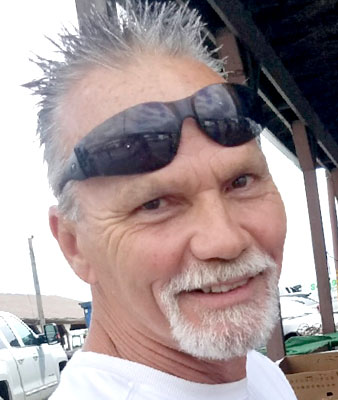 JAMES 'GREG' HAMBRICK
YOUNGSTOWN - On Monday, Oct. 8, 2018, James "Greg" Hambrick, 57, passed away.
He was born in Charleston, W.Va., on March 24, 1961, to Lora (Roush) Hambrick Colla and the late Fred Willard Hambrick.
Greg was the father of Jimi (Erika) Hambrick of North Jackson, Nate (Gena Sharp) of Austintown, Jacob Hambrick of Lake Milton, Amy Hambrick of Youngstown, and Amanda (Mike) Rogenski of New Middletown; grandfather of Camden, Cohen, River, Konley, Jaden, Raegan, Michael; stepson of Nick Colla; brother of Brian (Becky) Hambrick of Youngstown, Susan (Dave) Tomaino of Lake Milton, Melanie (Mitch) Mascioli of North Jackson, Jason Smeal of Youngstown, and Tiffani (Ron) Ross of North Carolina; and boyfriend of Heather Bianconi, who passed away with Greg.
Greg attended Jackson-Milton High School and worked as a painting contractor. He was know for his hard work ethic and could make anyone laugh with one of his great stories. He was an avid Harley rider and loved being on the open road. There were many things in life that Greg treasured but most of all he loved his grandkids, his Mom, spending time with his special needs brother, Jason, with whom he shared a special brotherly bond, and his dog, Noah.
A celebration of Greg's life will be held from 6 to 8 p.m. on Friday, Oct. 26, 2018, at the American Legion Lake Milton Post 737, 16465 Milton Ave., Lake Milton, OH 44429.
Arrangements by the Cremation & Funeral Service by Gary S. Silvat Inc.
Visit www.cremateohio.com to send condolences.
Guestbook Entries
Our condolences
"Sorry to hear about Greg. Our prayers go out to the family. "
» Dan and Kerry Shannon on October 22, 2018
Prayers
"So sorry to hear about Greg. Our prayers are with your family from us and your friends at SW."
» Vince and Andrea Fabrizio on October 30, 2018
My deepest condolences
"Now is James's time to rest...may Jehovah God the God of all comfort...comfort his family and friends in this time of need...2 Corinthians 1:3,4"
» KMB on November 7, 2018
Sign the Guestbook
---