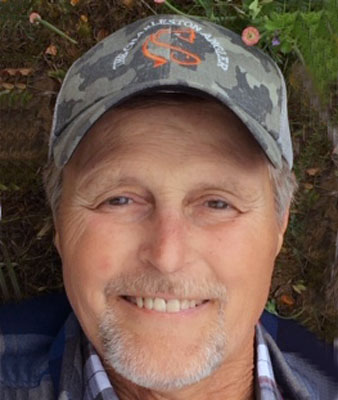 LAWRENCE 'LARRY' MARSH DAVIS
CANFIELD - Lawrence "Larry" Marsh Davis, 68, passed away peacefully at his home early Saturday morning.
Larry lived a remarkable life devoted to his wife, Karen; daughters Katie, Sandy (Roger) Ewing, and Sunny (Robert) Price; grandchildren Skylar, Alex, Pauline, Samantha, and Rayana; nephews Joshua, Zachary, and Jacob; and brothers-in-law Gregory (Karen) and Jay (Pat) Powell.
He was preceded in death by parents Richard and Pauline Davis; brother Rodney Davis, and stepmother Joyce Davis.
Larry's family recently celebrated his 68th birthday at his home, where he received numerous visits from cherished friends, colleagues and students.
Larry was born in Columbus, and graduated from Whetstone High School in 1968. He was a terrific athlete throughout his life. While at Whetstone, Larry lettered three years in baseball and one year in basketball. A First Team All-Columbus selection in baseball, he led his WHS team to the state Final Four his junior year. Later in life, he continued to enjoy playing baseball as a Poland Fog in the senior men's baseball league. He also loved to play tennis and pickle ball, hike at Mill Creek Park, and swim laps at the Canfield Swim Club. His kids and grandkids recall playing countless games of "pop-up" in the backyard.
Larry graduated Cum Laude with a Bachelors of Science from the College of Agriculture Honors Program at The Ohio State University in 1972. He earned his M.S. in Biology from the University of Akron in 1985. After receiving the OSU ROTC "Distinguished Military Graduate" honor in 1973, Larry served as First Lieutenant in the U.S. Army at Fort Leonard Wood in Missouri from 1973 to 1975, where he earned the Army Commendation Medal. Larry was honored to have served his country as an officer in the U.S. Army.
Larry shared his passion for biology, environmental sciences, and athletics with his beloved students and colleagues at Canfield High School for 37 years, where he was sometimes known as "Jungle Larry." He served as Science Department Chair, and in 2001 was named the "Conservation Educator of the Year" by the Mahoning County Soil and Water Conservation District.
Larry's accomplishments as Canfield High School's tennis coach were legendary. His teams collectively bagged 595 victories, winning 27 league championships during his career. Larry mentored a total of 17 singles players and doubles teams for state competition and coached a two-time state singles champion. In 1997, Larry received the Ohio Tennis Coaches Association "Sportsmanship, Ethics, and Integrity Award," and was inducted into the Curbstone Coaches Hall of Fame in 2015 and the Canfield High School Athletic Hall of Fame in 2016.
An accomplished guitarist and beautiful singer, Larry shared his musical gifts alongside Karen for over 35 years as a devoted member of the Boardman United Methodist Church Praise Team. He was a man of abiding faith who loved and served his church community in a variety of ways.
The essence of Larry's spirit was evident when one was in his presence. Whether engaged in conversation, fishing, camping, birding, or taking a quiet walk in the woods, Larry was a gentle soul always in great concert with nature. He delighted in sharing his understanding of the natural world with anyone who demonstrated interest or curiosity.
A celebration of Larry's life will be held on Dec. 8, at the Boardman United Methodist Church. There will be a service at 11 a.m., followed by a reception in the Fellowship Hall.
In lieu of flowers, memorial donations may be made to the "Larry Davis Science Scholarship Fund" in care of Canfield Local School District, 100 Cardinal Drive, Canfield, OH 44406, or to Boardman United Methodist Church, 6809 Market St., Boardman, OH 44512, in Larry's name.
Arrangements are being handled by the Davis-Becker Funeral Home in Boardman.
Visit www.beckerobits.com to send condolences.
Guestbook Entries
Great coach and person
"A great man, May you Rest In Peace. "
» Keith Lang on October 16, 2018
A kind,gentle soul
"Larry was a kind, gentle soul who loved the Lord. We know he is with the Lord. I send my condolences to Karen and family for such a great loss. A wonderful life lived."
» Garry Riggs on October 15, 2018
Til we meet again
"Our condolences to Larry's family, wife Karen and friends we will all miss Larry and think of him often. Larry thank you for sharing these last few years with us. Though relatively new to the are your kindness made us feel warm and welcome. I thank you for joining me in prayer on Sundays in the sanctuary and soon we will do it again. I'll keep up with the gardening and continue to battle those weeds. Watch for us my friend and thank for sharing your life with us. You will be missed but not forgotten. "
» Mark Carver & Doreen Delisio on October 15, 2018
Great Friend and Neighbor
"Larry was always up for a game of baseball or basketball down in the apartment complex. He was fun to be around. The 70's rocked! Larry u will be missed by everyone that u touched their lives! RIP"
» Brad Hileman on October 15, 2018
Larry left a legacy
"Karen, our son Rob was a devoted student of Larry, and Chuck was one of his tennis players. I think Larry's freshman biology class was key in Rob majoring in microbiology at Miami. Rob just loved the field trips and everything about the class. Chuck's two kids are on their school tennis teams in Denver. We remember the ski club trips to Peek n Peak. Larry loved those kids. Larry built a legacy into our family and I know into many others. CHS and the whole community were blessed to have him. We send our deepest sympathy."
» Tae and Linda Ro on October 15, 2018
A dear friend and patron on Caffe Dars
"To Karen and Larry's family: We are extending our deepest sympathy for the loss of our dear friend Larry. He made an indelible mark on my family, our business and it's success and the successes of our children's lives, as their teacher. I will always remember all the talks he and I had at the Caffe in the morning with the guys. I so cherish his listening ear and advice when things got crazy there. We will miss our talks when passing you two on the bike trail. He was a lovely man, a blessing to us all. May God watch over him, you and your family. Rest In Peace Larry. Love you Always. "
» John and Darlene Morris on October 15, 2018
Amazing Person!
"Our condolences to the Davis family. Mr. Davis was a terrific teacher, coach and friend to the Kirtleys. As much as I will remember playing for him and how valuable that was, playing night matches with Coach Cullen, Coach Pavlansky, and me will never be forgotten. Thank you for all you did for our family and may you rest in peace. You will be missed!"
» Steve Kirtley and Family on October 15, 2018
RIP friend
"My heartfelt condolences to his family. Larry was one of the only educators that I connected with. He was genuine and kind. I am great full for the time I spent with him and Karen when we reconnected at church. He came out to see our band play and we enjoyed a round of golf together. I never new until we reconnected what a talented guitarist and vocalist he was. I will cherish performing "Silent Night" with him at the end of the Christmas Eve service. He was a wonderful human being and I feel blessed to have known him....Rest in peace my friend. God bless."
» Scott Detchon on October 15, 2018
My best to the family
"My sincere condolences to the Davis family. I was a WHS classmate and though I lost contact with Larry in recent years, he was always a wonderful person. My best to his family. "
» Jeri Docherty Boettcher on October 15, 2018
Thank you for everything
"We met you & Karen. For 7 years ago.You guys us welcome us to your church & your big 💙. We love you so much we miss you alot ."
» Bethany &Angela. Bulone on October 15, 2018
Coach Larry
"The Coach will be missed. I enjoyed visiting with coach at the Canfield weight room and various high school events. He was the kind of guy that made you feel like you knew him all your life. He had a sweet spirit his smile and hellos will be missed. God speed Coach. "
» Fred Rosko on October 15, 2018
My deepest condolences
"Now is Lawrence's time to rest...may Jehovah God the God of all comfort...comfort his family and friends in this time of need...2 Corinthians 1:3,4"
» KMB on November 6, 2018
Sign the Guestbook
---