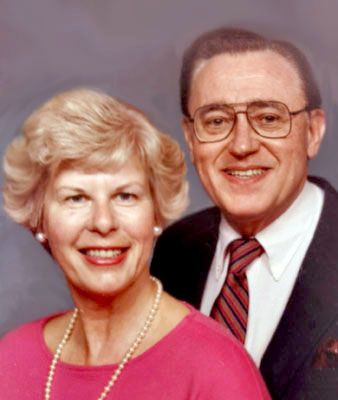 MARGARET ANN POOLE GUJU
"Together Again"
CENTENNIAL, COLO. – In loving memory, Margaret Ann Poole Guju, known as "Peggy", passed away of natural causes on Sept. 29, 2018, at the age of 88. Peggy had been living at Holly Creek Retirement Community in Centennial since 2005.
Born Margaret Ann Poole on June 2, 1930, in Newton Falls, she was the daughter of Howard Clement Poole and Pauline Hindman Poole.
Margaret Ann graduated high school in Newton Falls and went on to attend Baldwin-Wallace College, where she graduated with a degree in Medical Technology. Her social sorority was Delta Zeta. She went on to Western Reserve University, where she interned as a medical technologist at University Hospitals in Cleveland. It was there that Margaret met her husband, John, and they married on May 11, 1952.
They lived in Biloxi, Miss., for two years and while John was a practicing physician at Keesler AFB. Peggy worked as a technician in the blood bank. They moved back to Youngstown, where she raised a family of three and over the years became active in various church, charitable and social organizations. Peggy relocated to Parker, Colo., in 1995 after the death of her husband in January of 1993. Peggy and John had celebrated over 40 years of marriage.
Peggy lived a full life and was loved by all. She was gracious and wise. Peggy played an active role in all her children's lives. "We all remember her love of animals, especially cats, and she always looked forward to friendly gatherings and holidays with the family." Friends and family enjoyed her cooking and her flower gardens sprang to life with color every year. Peggy and John both loved to travel abroad and to visit their grandchildren. Peggy will be remembered as a kind and devoted wife, mother and "Nana" to her grandchildren.
Peggy was preceded in death by her husband, Dr. John G. Guju of Youngstown.
She is survived by her three children, Nancy E. Guju-Collins of Parker, Paula J. Guju-Pope of Lahaina, Maui, Hawaii, and John H. Guju of Poulsbo, Wash., as well as their spouses and her seven grandchildren.
Peggy's ashes will be placed next to her late husband's ashes at Lake Park Cemetery in Boardman. A small family service is planned.
The children would like to recognize the excellent end-of-life care that their mother received by the staff members at both Holly Creek and Aviant Hospice.
Donations may be sent to Butler Art Museum in lieu of flowers.
Guestbook Entries
signed...
"Oh my goodness, Nancy and Paula and Johnny! I feel like I (we) grew up with you (especially Nancy) AND your parents! I love them, like my own. It was such a shock when your Dad died. Now, not such a "shock" as we all get older, but so sad to lose "Mrs. Guju". She was almost another "mom" to me. I still to this day, do not like onions, and I always remember her telling me, on one of my house-sitting visits, "Jill - they are so good, you eat Valdaia onions just like an apple, help yourself". I almost got sick right there. I am so sad to hear this, although what you write here is right, back together again, with Dr. Guju. So many memories, so many stories, ALL good. I love you guys, stay strong and help each other thru this. Please keep in touch, my email is jill.goldie@consultant.volvo.com "back together again" - I like that......... "
» Jill Goldie on October 11, 2018
Sign the Guestbook
---