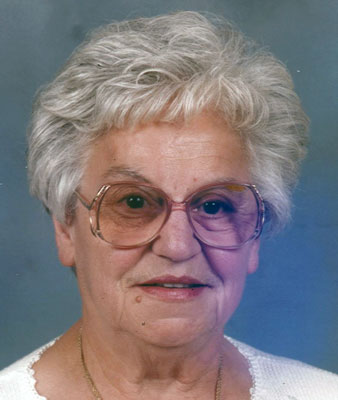 LOUISE A. CUTRONE
CAMPBELL – A Mass of Christian Burial will be held Saturday, Oct. 13, 2018, at 10 a.m. at Christ the Good Shepherd Parish at St. Lucy Catholic Church, with Monsignor Peter Polando officiating, for Louise A. Cutrone, 91, who passed away Saturday, Oct. 6, at her home and with her family by her side.
Louise was born June 19, 1927, in Youngstown, the daughter of Walter and Anna Konieczny Nizolek and was the last of 10 siblings,
She was a homemaker and a parishioner of Christ the Good Shepherd Parish at St. Lucy's Catholic Church.
Louise enjoyed pasta dinners on Sunday's with her children and grandchildren.
She was an avid bingo player with her many friends.
Louise's husband, Dominic A. Cutrone, whom she married Oct. 16, 1948, passed away May 15, 1996.
Louise will be deeply missed by her children, Victor Cutrone, Dominic (Denise) Cutrone, Maryann (Walter) Perez, with whom she made her home, Michael (Jennifer) Cutrone, Rose Kee, and Kenny Cutrone; her 15 grandchildren, Victor Cutrone, Shelly Cutrone, Carla Moschella, Dominic Cutrone, Nick Cutrone, Danielle Bland, Patty Ratliff, Michael Cutrone, Anthony Cutrone, Victoria Cutrone, Rick Kee, Dominique Kee, Kenny Cutrone, Vincent Cutrone and Marissa Clayton; one great-grandchild, Hope Bland; and many nieces and nephews.
Besides her parents and her husband, Dominic, she was preceded in death by her son, Nick Cutrone; her son-in-law, Robert Kee; five sisters; and four brothers.
The Cutrone family has entrusted their loved one to the care of the Wasko Funeral Home and will receive family and friends Saturday morning from 9 to 10 a.m. at the church, prior to the 10 a.m. Mass of Christian Burial.
Visit www.waskofamily.com to view this obituary and send Louise's family condolences.
Guestbook Entries
Sympathy
"With Deepest Sympathy from the Domanich Family. May she rest in Peace."
» David Domanich on October 10, 2018
Rest in peace
"God keep you dear Aunt. May the perpetual light shine upon you may you rest in peace. "
» Ronald Ali on October 11, 2018
May her soul rest in peace
"May fond memories of your mother bring you comfort always. My heart and prayers go out to you . "
» Joan Ludwick (Niziolek) on October 11, 2018
To my family growing up!
"I am so sorry for your loss! I will never forget the many time eating spaghetti and meatballs and not allowed to leave until I ate! One time Ken and I were going out on the weekend. I stopped to pick him up and Mr C told me to sit down and eat. I told him my mother made dinner and I just ate, he said I didn't ask you!!! So I sat down and Mrs C knows I just said I ate and fixed me a plate. I figured it'd be just a little, nope. She fed me like I haven't eaten in a week. And of course I had to eat it all! I left there sick cause I ate too much! One of my greatest memories and best stories to share! God bless Mrs C and all of you! Thank you for such great memories! "
» Chris Matesevac on October 11, 2018
Sign the Guestbook
---