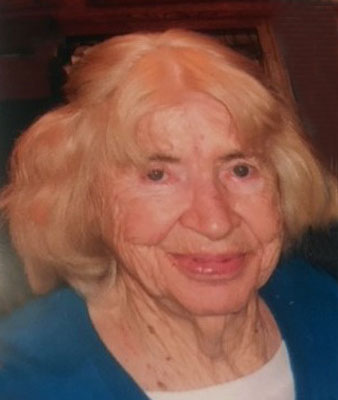 LAUREL F. KISH
YOUNGSTOWN - Laurel F. Kish, 92, of the Inn at Christine Valley went to be with the Lord on Oct. 3, 2018, after living a long and fulfilling life.
Laurel was born on Dec. 14, 1925, to George and Tresa Baldwin.
A lifelong Youngstown resident, Laurel attended The Rayen School. During World War II she worked in the defense plant at Truss Con and was proud to proclaim herself a "Rosie the Riveter."
In 1971, she began employment with the Youngstown Board of Education in the Central Kitchen Division, retiring in 1992. During the years, Laurel raised her family and traveled the country with her husband and family, proclaiming that she had visited at least half of the 50 states. She was a past-president of the Parent Teacher's Association (PTA), a Girl Scout leader and volunteer, and a proud Chaney High School football mom.
She is survived by her son, Ken Kish (Sherry) of Westerville; her daughter, Laraine Van Etten (Ken) of Fort Walton Beach, Fla.; three grandsons, Todd and Kevin Kish, and Steven Van Etten; five great-granddaughters, Kennedy Kish, MacKenzie Kish, Kaitlyn Kish, Kara Kish and Kamryn Kish; a brother, Richard Baldwin; and many nieces and nephews.
Besides her parents, Laurel was preceded in death by her beloved husband, Steve R. Kish, whom she married on April 14, 1944; and two sisters, Georgette Holton and Joan Poppineau.
Friends may call from 2 to 3 p.m. on Sunday at the Fox Funeral Home, where a service will follow at 3 p.m.
Material tributes can be made in Laurel's name to Pyramid Inc., 432 Green Acres Road, Ft. Walton Beach, FL 32547.
The Fox Funeral Home is handling the arrangements.
Family and friends may visit www.foxfuneralhome.org to view this obituary and send condolences.
Guestbook Entries
I am sorry ...
"… for your and your sister's loss. Be at peace."
» Chuck Scherl on October 5, 2018
Condolences
"My deepest sympathy for your loss. I remember your mom from when you'd visit my/your uncle, Frank Kish, and she was always so sweet and very pretty. Be at peace."
» Sue Wilds on October 5, 2018
My deepest condolences
"Now is Laurel's time to rest...may Jehovah God the God of all comfort...comfort her family and friends in this time of need...2 Corinthians 1:3,4"
» KMB on October 29, 2018
Sign the Guestbook
---