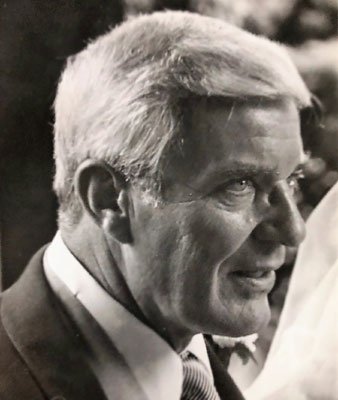 JAMES FRANCIS CARDEN
WESTFIELD, N.J. - James Francis Carden, known to friends as both "Jim" and "Daddy Jim", passed away on July 20, 2018, at the age of 88 years, after a prolonged struggle with pulmonary and cardiac illness.
A native of Youngstown, and longtime resident of Westfield, Jim graduated from Chaney High School in 1948 and briefly attended Youngstown University before joining the U.S. Air Force, where he became a fighter pilot in the 319th Fighter Interceptor Squadron, flying F-94B all-weather fighter planes in Korea.
Returning to the United States, he flew F-94C fighters in the 26th Air Defense Wing, where he scored a world record in air-to-air rocketry target competition. After leaving the Air Force, Jim became a commercial airline pilot, flying for United, Northeast, Trans Caribbean, and finally as a Captain for American Airlines.
Jim was passionate about flying, but his main love was his wife and family. He was a loyal friend and helpful neighbor. Home renovations and improvements were second nature to Jim, and he loved working on projects in his home and the homes of his three children, as well as friends. After retirement in 1990, Jim became active in Habitat for Humanity, using his handyman skills for the benefit of others. He enjoyed travelling the world with his family, but always found time to travel back to his family roots and relations in Ohio.
Jim is survived by his loving wife of 65 years, Rosella "Ro"; his children, Cathy (Rob) Shaffer, Jamie Carden-Leventhal, and Jimmer (Lisa) Carden; his four grandchildren, PJ and Lydia Leventhal, and Miles and Aidan Carden; his brother, John (Donna) Carden of Boardman; and many cousins, nieces and nephews.
Jim will be laid to rest in the Old Home Cemetery on McCollum Road in Youngstown, on Saturday, Oct. 13, at 3:30 p.m. Family and friends are invited to the 3:30 p.m. interment at the cemetery, followed by a gathering at Birch Hill Cabin in Mill Creek Park.
In lieu of flowers, memorial donations in memory of Jim Carden can be made to Habitat for Humanity of Greater Plainfield and Middlesex County, New Jersey at http://www.habitatgpmc.org/ (888) 557-6032.
Guestbook Entries
Deepest sympathy
"So sorry to hear of Jim's passing. Cousin Betty (Ducky) and Bill Martin."
» Betty and Bill Martin on October 10, 2018
Sign the Guestbook
---