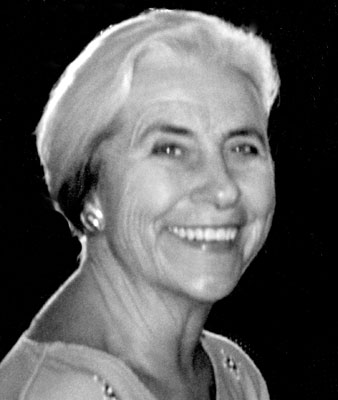 MARJORIE 'MARREE' CHANDLER HARNOIS
POLAND - Marjorie "Marree" Chandler Harnois, 88, passed away peacefully in her sleep at Sunrise Senior Living, on Nov. 16, during the season's first snow, a favorite of hers.
Marree was born Dec. 29, 1929, in Rockford, Ill., the second daughter of Roberta (Wright) and Elliott Chandler.
She graduated from Rockford West High School and went on to graduate with a degree in Education from Hillsdale College, Hillsdale, Mich. While at Hillsdale College, she served as president of her sorority, Kappa Kappa Gamma, and was crowned as May Queen her senior year.
She married the love of her life, Trefle P. "Tref" Harnois, on June 3, 1951, the same day that she and Tref graduated.
Marree relished her role as wife and mother, raising four, happy children.
Throughout her adult life, Marree was a member of the Junior Leagues in Lancaster, Pa., Chicago, and Rockford, Ill. and was particularly supportive of the Children's Theater. As a member of Rockford Country Club, she was an avid tennis player and golfer. She also belonged to the Rockford Garden Club, the University Club, and the Second Congregational Church.
Marree aided her husband in his work as a development officer for Hillsdale College, where he served as a trustee, raising millions of dollars for student loans and capital improvements.
Fun-loving and spirited, Marree lit up every room she entered. She adored singing and shared her voice wherever there was a party, most notably in a comedic way as she had a deep, monotone timbre. Her pastimes included walking, gardening, antiquing, decorating, and painting.
A world traveler, she toured throughout Europe and the Far East with Tref, but was always the happiest to be home.
Marree will be lovingly remembered by her children, Carol (John) Potter, Peter (Beatriz) Harnois, Elizabeth (Tom Kane) Harnois, and Robbie (Greg) Fast; grandchildren, Jesse, Grace, Madeleine, Patrick, Tref, Eric, Charlie, and Isabelle.
Every sunset on the beach while looking for the green flash will give occasion to recall Marree's love of the water and her memorable times with family.
She was preceded in death by her parents; her cherished older sister, Carol; and beloved husband, Tref.
The family would like to thank the caring teams at Sunrise Senior Living and MVI HospiceCare for their wonderful support and devotion to their work.
Memorial services to honor Marree's life will be private.
In recognition of her lifelong love of children and dogs, tributes to her life may be made to the Boys & Girls Club of Youngstown or Angels for Animals.
Please visit www.beckerobits.com to send condolences.
Guestbook Entries
« Be the first to sign MARJORIE 'MARREE' CHANDLER HARNOIS guestbook.
---