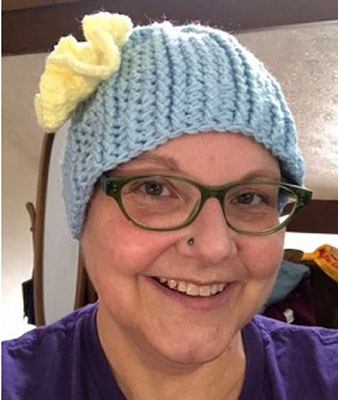 ERIN IRENE BOUCHER
POLAND - Erin Irene Boucher, 49, took her last breath at 11:22 a.m. on Wednesday, Nov. 7, 2018, surrounded by her family. Erin fought a courageous and graceful battle with breast cancer.
She moved "home" to Oil City, Pa., where her heart had always resided, two months ago to be closer to family.
Born May 9, 1969, in Ravenna, she was the daughter of Kay Templeton Woods and stepdaughter of Stephen G. Woods.
Erin was a 1987 graduate of Oil City High School.
She attended Allegheny College for two years and later graduated from Kent State with a Bachelor's degree in Special Education. She received her Master's in Special Education from Edinboro University.
Erin was a valued member of the faculty of Stambaugh Academy in Youngstown for the last year and a half. She formed meaningful and rich relationships with both the staff and students there. She was a gifted special education teacher and was very dedicated to her students.
Also notable is her time volunteering with Trek horse therapy in Erie and creating an art class for inmates of the state prison.
She had a passion for photography, music and dancing, art, knitting gifts for friends and family and was an absolute lover of cats. Erin always enjoyed the beach. St. Pete Beach was one of her favorite places to spend time with family.
She was married on May 26, 1996, at Blessed Sacrament in Erie, Pa., to Stephen N. Boucher and he survives.
In addition, she is survived by her mother and stepfather Kay and Stephen Woods of Oil City; a son, Nicholas Alan Boucher of Erie; a daughter, Bailey Kay Boucher of Erie; grandson Elliot Boucher; and two sisters, Jennifer J. Howison and her husband, Mac, of Pittsburgh, and Stephanie M.G. Woods and her husband, Evan Gealy, of Pittsburgh. She is also survived by loving family including aunts, uncles, cousins and two cats.
There will be no viewing or visitation.
A celebration of her life is to be held on Saturday, Nov. 17, at Karma Coffee, Oil City, 237 Seneca St., from noon until 8 p.m. There will be live music and refreshments. It will be B.Y.O.B
Memorials may be made to the Stambaugh Academy, 2420 Donald Ave., Youngstown, OH 44509.
The Reinsel Funeral Home & Crematory is in charge of the arrangements.
Please visit www.reinselfuneralhome.com to send condolences.
Guestbook Entries
Blessed to have had you in my Life.
"Grief is such a hard thing my friend. I saw you courage and strength daily through you journey. You blessed my life with laughter and love of both education and life. I am going to miss our morning meetings that started in the parking lot! I am so glad you are free of the pain and cancer that came from this world. Set in peace my friend you will be missed be all whose life you have touched. Kay and family you have my deepest condolences , but always remember she is at peace and no longer in pain. Remember how much she enriched your lives. "
» Sandra Christy Kelty-Mislevy on November 9, 2018
Sign the Guestbook
---