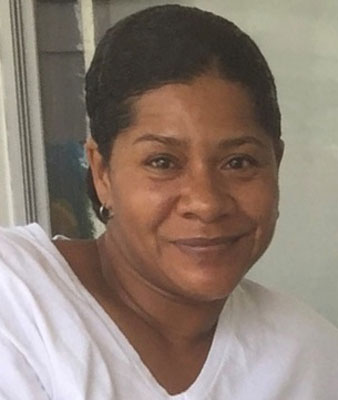 ANTWANNETTE MICHELE CROSS
YOUNGSTOWN - A funeral service celebrating the life of Miss Antwannette Michele Cross, 44, will be held Monday, Nov. 12, 2018, at 11 a.m. at the Jalex Event Center, 2110 Glenwood Ave., formerly known as the Victory Lutheran Church.
Miss Cross departed this life Saturday, Nov. 3, at her home.
Miss Cross, affectionately known as "Michele", was born March 23, 1974, in Youngstown, a daughter of James Edward Smith Jr. and Cynthia Rose Cross O'Neal.
She attended The Rayen High School and Choffin Career and Technical Center. She was so dedicated to the well being of others. She cared about others so much that she spent most of her career working as a home health aide. She also enjoyed doing home improvement jobs in her spare time. She was recently working at Exal Manufacturers.
Miss Cross enjoyed spending time with family and friends. She was always the light of the room. Her smile was hard to ignore and she always made everyone around her laugh. She was a dedicated mother, sister, daughter, and friend who will be missed by those who knew and loved her.
She leaves to cherish her memory, her loving children, Chena Cross, Tyjuan Smith, Tyrail Smith, Sidney Cross, and Airess Cross, all of Youngstown; two grandchildren, Teyanna Smith, and Tyrail Smith Jr.; her sister, Takesha (Nicki) Hopkins, of Niles; her brothers; her three nephews, Lorenzo Cross-Carbone, Christopher Williams, and Bryson Jackson; and one niece, Alasia Williams, all of Niles; her dear friend, Samuel Washington, of Youngstown; and a host of family and friends.
She was preceded in death by her grandparents, Squire and Manolia Cross, and James and Sally Smith.
The family will receive friends from 10 to 11 a.m. at the Jaylex Event Center.
Interment will be at Belmont Park Cemetery.
Ministry of comfort and transitional care entrusted to the J.E. Washington Funeral Services Inc.
Guestbook Entries
Sorry for your loss
"So sorry to hear of the loss of your loved one. Death is such a hard thing to go through especially when it is someone you love and truly are close to. The Bible gives comfort when we go through tough times such as these. 2 Corinthians 1;3,4 tells us who can give us comfort. It's says the God can give us the comfort we need and that he is the God of tender mercies. We can pray to him and tell him about of sadness or our problem. And he helps us through his word the Bible...God notices when we are sad when we grieve and when we are in pain, he will help please remember that. I hope this message brings you comfort in the days to come. "
» Shaemieika Hall on November 15, 2018
R.I.H
"Sorry for your loss. She was a very nice person, very nice to work with."
» Estella James on November 9, 2018
Albany, Ga.
"My sincere and deepest condolences to my family. May you be comforted by loving memories. "Cousin Cheekie""
» Chithea Summers-Robinson on November 9, 2018
Prayers & thoughts
"May God give strength to the family! Michelle was a pleasure to know, with a sweet spirit and a strong constitute for working hard to rear her children & provide for them. She was a loving mother and person. Prayers and God's peace rest, rule and abide with and in you all! "
» Evelyn J. Wilbon on November 9, 2018
RIP
"The Walden's send their deepest sympathy to friends and family of Michelle. Prayers of comfort and strength."
» Yvette on November 9, 2018
Deepest Condolences!!
"God Bless the Family of Antwanette!!! May God Grant you Peace, and keep you in his loving care!!!!💜💜💜💜💜💜💜💜"
» Brenda Dawson on November 10, 2018
Our deepest sympathies
"We at Giant Eagle offer our deepest sympathies during this tough time. Our thoughts and prayers are with the cross family."
» Russ Myers on November 12, 2018
Sign the Guestbook
---