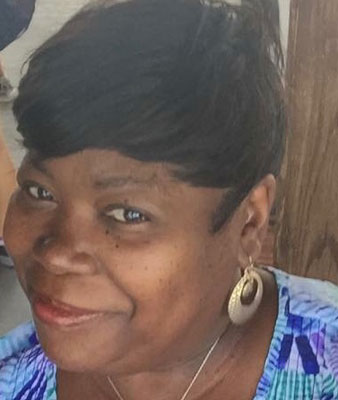 LILLIAN R. DEFRANCE
VIENNA- A funeral service will be at noon on Friday, Nov. 9, 2018, at McGuffey Road Church of Christ, 1101 Miami St,  for Mrs. Lillian R. DeFrance, 55, who departed this life on Friday, Nov. 3, 2018, at Hospice House in Poland.
Mrs. DeFrance was born July 20, 1963, in Youngstown, a daughter of Clinton and Della Mae Dwight Brewer.
She received her Bachelor's degree and was owner/operator of her day care Concepts of Learning and her restaurant Soul Food Sensation.
She loved bingo, cooking, fishing, and spending time with her family. 
She leaves her husband, Gary DeFrance, whom she married in 1978; her step-mother, Mrs. Arrelia Brewer; children, Marlon (Kimberly) Dwight, Gary (Jennifer) DeFrance Jr., Atty. Syreeta (Randall) DeFrance-Poindexter, Darnell (Michelle) DeFrance, Shauneque Rice, and Lavertis Martin; siblings, Crystal Davis, Victoria Williams, Juliette Smallwood, Annette Dwight, Darlene Owens, Tia, Greg, and Jimmy Davenport, and Priscilla Harrison; 20 grandchildren; and godparents, Nelson and Daisy Bell Quinny. 
She was preceded in death by her parents and her brother Clinton Brewer Jr.
Friends may call from 11 a.m. to noon on Friday at the church.
Arrangements are being handled by the F.D. Mason Memorial Funeral Home, Inc.
Guestbook Entries
Phenomenal Woman
"Ebbie, You were such an inspiration to me. You were smart, intelligent, faithful, loyal, committed, awesome entrepreneur, funny and easy to love. You were just that one of a kind woman whom I adored from the very first time I met you over 40 years ago. You had the knack for business and you made sure everyone of your dreams and goals came to past and that was the faith of the mustard seed that God honored. I'm going to miss your beauty inside and out. You were my sister and I love you dearly. Rest easy baby girl. God loved you more. Your Job was done and he is well pleased with you. FAMILY HANG IN THERE AND LET'S CONTINUE TO LOVE ON ONE ANOTHER, WE WILL SEE HER AT OUR LATTER. Love Queen B"
» QueenB on November 15, 2018
Rest in Paradise
"You were the most beautiful,caring and happiest person I've ever meet. You have put so many smiles on peoples faces. You taught me so much about cooking and for that I am very grateful. Heaven has gained an very AWESOME angel. May you rest in paradise. 😘 "
» Jaquela Freeman on November 8, 2018
sorry for your loss
"what a great person and a great family proud to have known her and her great children and husband will be missed "
» Benchwick family on November 9, 2018
Sign the Guestbook
---