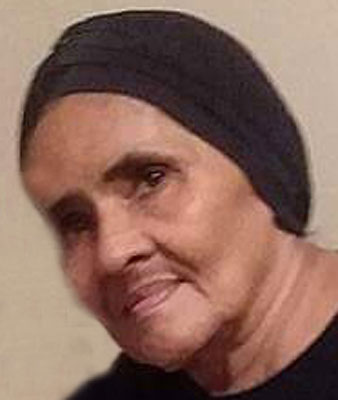 HEYDA ZAVALA
YOUNGSTOWN — Heyda Zavala, 70, passed away on Friday, Nov. 2, 2018.
She was born May 10, 1948, in Caguas, Puerto Rico, the daughter of Augustine Zavala and Julia Rodriguez.
Heyda was a kind-hearted person always willing to help those in need.
She loved spending time with her family, especially her grandchildren and great-grandchildren.
Heyda will always be remembered lovingly by her four children, Yvonne Moralis of Struthers, Lourdes Blake of Campbell, Manuel (Cheri) Rodriguez of Florida, and Mario Rodriguez of Arizona; three sisters; brother, Jesus (Maria) Pedraza of Austintown; 13 grandchildren; four great-grandchildren, and nieces, nephews, and cousins.
She was preceded in death by her parents; and a sister.
Friends may call from 10 to 11 a.m. on Saturday, Nov. 10, at the Living Testimony Ministries, 34 Jacobs Road. in Youngstown, followed by an 11 a.m. service.
Arrangements have been entrusted to the professional care of the Rossi Brothers & Lellio Funeral Home, 4442 South Ave. in Boardman.
Family and friends may visit the Book of Memories at www.rossifunerals.com to view this tribute and send condolences to Heyda's family.
Guestbook Entries
CondolencesMy sinsere
"My sincere and deepest Condolences for the loss of Heyda.. She will be missed and Always Remembered in our community..Dottie"
» Dorothy Dixon on November 8, 2018
CONDOLENCES
"Sorry you had to go. You will be remembered for your caring heart for others around you. Rest in Gods care."
» Betsy Valentin-Boukrab on November 8, 2018
Prayers & Condolences
"My prayers and thoughts are with you! I will always have fond memories of Heyda! We were connected and I will love ❤️ and miss her!"
» Evelyn J. Wilbon on November 9, 2018
Sign the Guestbook
---