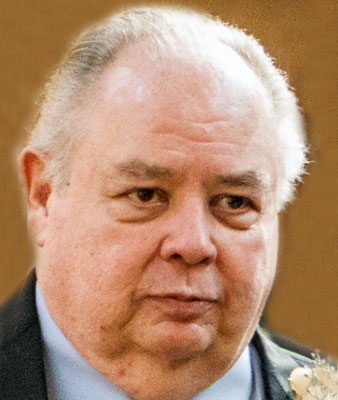 DENNIS PAUL MCCABE
YOUNGSTOWN – As the leaves begin to alter into the beautiful hues of Fall, and we begin our season of holidays and celebration, a Mass of Christian Burial, for Dennis Paul McCabe, will also be celebrated. On Saturday, Nov. 10, 2018, at 10 a.m., the Rev. Richard Murphy will preside in an Irish celebration at St. Dominic Church for Dennis, who passed away peacefully, Monday, Nov. 5, at St. Elizabeth Boardman Hospital surrounded by his family.
Dennis was born May 22, 1946, in Youngstown, son of Francis and Rose (Donadee) McCabe, and he was a lifelong, south side resident.
His brother, Francis (Diana) McCabe, whom he made his home with and his nieces and nephews, Bridget McCabe of Warren, Francis (Anna) McCabe of Virginia, Mary (Zachary) Cook of Poland, and Robert (Ashley) McCabe of Columbus, who will forever cherish and remember the countless memories made because Dennis was in their life. Dennis also leaves his new-found loves and joy, his great-nephews, Francis "Teddy" McCabe, Jack Cook, and Gaetano "Guy" McCabe. As Dennis lived for his nieces and nephews, he also found a new sense of life these past couple of years through his great-nephews.
Besides his immediate family, Dennis also adored and leaves behind to carry on his memory his cousins, Patricia Fleming, Betse Rizzi, Cheryl Schuller, and Terry Maloney.
In between the craziness of all the sporting and school events Dennis' nieces and nephews were involved with, with which he never missed a game, and he also spent his time with books and collecting Disney memorabilia. Dennis could often be found reading in the family's library about his proud Irish Culture and American History. He was a true historian at heart. And if you knew Dennis, you knew that he enjoyed starting and building many Disney collections to leave for his nieces and nephews to enjoy.
Dennis graduated from Wilson High School, class of 1964 and went on to work for Highway Heat Systems, followed by Astro-Shapes, with which he retired from. Dennis worked for over 30 years, and spent his vacation times watching his nieces and nephews play sports.
Family and friends may call from 9 to 9:45 a.m. on Saturday at St. Dominic Church, 77 East Lucius Ave. in Youngstown.
Dennis' family is asking in lieu of flowers, donations be given to The Rescue Mission of the Mahoning Valley, whom Dennis donated to throughout his life.
Lastly, Dennis would want to remind everyone that Notre Dame will continue its battle to stay undefeated on Saturday, the 10, against Florida State University, at 7:30 p.m. Since many know Dennis and his family to be fanatics (to put it lightly) of their Notre Dame Fighting Irish, he DOES expect you to be tuning into the game to cheer them on, with some Irish Whiskey by your side. "We know he will be."
Family and friends may visit www.foxfuneralhome.org to view this obituary and to send condolences.
Guestbook Entries
Deepest sympathy
"My deepest sympathy over your loss of Dennis. May the good Lord bless and keep him...for surely Irish eyes are smiling upon him as he enters the gates of Heaven. Think of you often as a family of love and great devotion to one another. God's peace, especially at this time in your lives. Prayers, Rose Marie Portland, MI"
» Rose Marie Muennich on November 8, 2018
Thoughts and Prayers
"What a lovely tribute to a unique and wonderful cousin. May he have the peace he truly has earned."
» Terry Maloney on November 8, 2018
Thoughts and Prayers
"So sorry to hear Dennis passed away. May the McCabe family find peace and comfort during this most sad and difficult time. May the legacy of Dennis live on through his nieces and nephews and may they always honor his memory. God Bless Dennis McCabe as he joins Aunt Rose & Uncle Tumpy in eternal rest. We would be remiss if we didn't add...Go Irish☘️!!"
» Shaffer Family on November 9, 2018
Sign the Guestbook
---