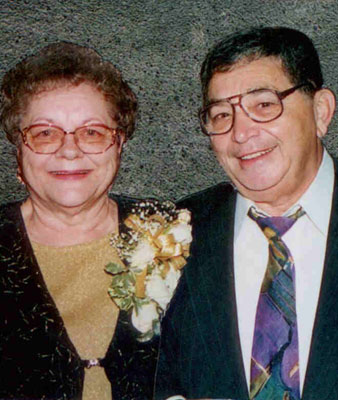 MARIE J. CHANCE
"Together Again"
AUSTINTOWN - "Marie J. Chance, our beloved mother, passed away on the 30, of Oct., at the age of 89, with her family at her side."
Born on June 16, 1929, to Luigi and Elizabeth Agnone Costantino.
Marie was a Chaney High School graduate.
On Oct. 8, 1949, Marie married her high school sweetheart, Thomas F. Chance and they were married 69 years. They had four children, Cathy Chance of Austintown, Thomas (Julia) Chance II of The Colony, Texas, Tammy Chance of Austintown, and Adria (James V) Pupino, also of Austintown.
She had six grandchildren, Thomas F. Chance III, Roxanne Alexander, Elisha Chance, Amara Chance, James V Pupino III, and Emily E. Pupino; and also had five great-grandchildren, Patrick, Addison, and Sophia Fleischer and Aiden and Ian Cafarelli.
Marie worked at Weathersby Coats and was also a hostess at the Red Barn in Austintown.
She was very active in her church, St. Anthony of Padua, where she was President of Altar and Rosary. She also worked numerous church events such as bingo, festivals, spaghetti dinners, pizza, and Easter bread fundraisers. She was also a member of the ladies' auxiliary of the Knights of Columbus 3930.
She was a great cook, baked pizza, bread, cookies, and candy for family and friends. She crocheted many afghans, sewed clothes, made crafts, and flower arrangements. She enjoyed playing and beating everyone at gin, penny ante, and her favorites, bingo and casino games.
Marie was preceded in death by her husband, Tom; her parents; infant daughter, Karen Marie; brothers, Anthony and Louis Constantino Jr.
Thank you to the staff at Austintown Health Care, formerly Meridian Arms for taking good care of her as she resided there for five and a half years and made many friends. We would also like to thank Hospice of the Valley for helping us in her last days.
Family and friends may call at the Schiavone Funeral Home from 4 to 6 p.m. on Sunday, Nov. 4, and from 10 to 11:15 a.m. on Monday, Nov. 5.
Mass will follow at 11:30 a.m. in St. Anthony of Padua Church. Please visit www.schiavonefh.com to share condolences.
Guestbook Entries
My deepest condolences
"Now is Marie's time to rest...may Jehovah God the God of all comfort...comfort her family and friends in this time of need...2 Corinthians 1:3,4"
» KMB on November 30, 2018
beautiful lady
"My deepest condolences , what a full life she had I remember weatherbe coats they made great top coats for men."
» Frank Napolitano on November 2, 2018
Sympathy
"Cathy and Family, I am so sorry to hear about the passing of your mother. I know she will be missed. May she rest in peace. Linda Passarelli"
» Linda Passarelli on November 2, 2018
Sign the Guestbook
---