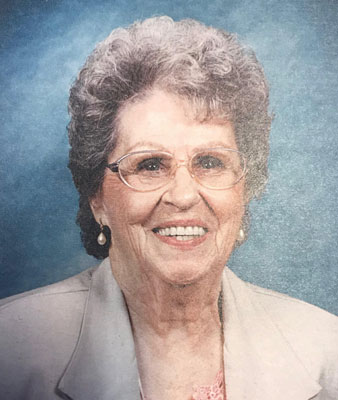 LENA ELEANOR DUNKERLEY
MONROE CITY, MO. - Lena Eleanor Dunkerley, 96, formerly of Austintown, died Sunday, May 27, 2018, at the Salt River Community Care Center in Shelbina, Mo.
Eleanor was born on Oct. 3, 1921, in Fairchance, Pa.; the daughter of Danzel Ross and Mary Ethel (Martin) Teets.
She married Thomas Dunkerley in Youngstown.
Eleanor is survived by her daughters, Barbara Lambeth and husband, James of McCormick, S.C., and Sandra Blei and husband Bill of Monroe City; grandchildren, Bill Blei III, Michele Mayer, and Tom Lambeth; seven great-granddaughters, Kelly Ann, Jennifer, Karly, Micaela, Rachael, Jaclyn, and Olivia; three great-grandsons, Tom, Christopher, and Tanner; five great-great-grandchildren; as well as a sister, Arline Blystone of Austintown.
Besides her parents, Eleanor was preceded in death by her husband, Thomas and a grandson, Scott D. Lambeth.
Friends will be received at the Lane Family Funeral Homes, Austintown Chapel on Friday, June 1, 2018, from 10 to 11 a.m., where services will be held at 11 a.m. with Pastor Mark Nelson officiating.
Memorials may be made to a charity of one's choice.
Please visit www.lanefuneralhomes.com to share a memory or to send a condolence.
Guestbook Entries
Sympathy
"Dear Barb and Family, Please accept my deepest sympathy in your mom's death. My prayers shall be with you. Fred Romeo"
» Fred Romeo on May 31, 2018
Sign the Guestbook
---