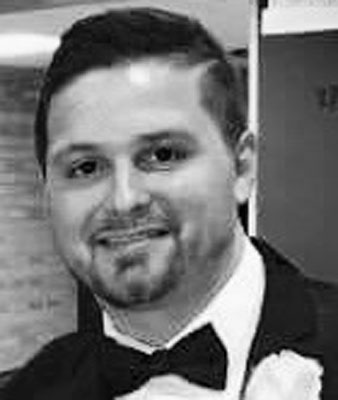 JONATHAN DAVID 'JD' CONGELIO
YOUNGSTOWN - Jonathan David "JD" Congelio, 29, passed away unexpectedly May 22, 2018, at his residence.
Jonathan was born March 27, 1989, in Youngstown, a son of Mark and Jamie (Beaver) Congelio.
He was a 2007 graduate of Canfield High School and attended Youngstown State University.
Jonathan was a cook at Blue Wolf Tavern in Boardman. He got his love for cooking from his father, Mark. A few of Jonathan's other passions were soccer, art, and music.
He was a member of the Tabernacle Evangelical Church in Austintown.
Jonathan is survived by his mother, Jamie Congelio of Canfield; one brother, Josh (Alyvia) Congelio of Boardman; grandmothers, Therese Congelio of Austintown and Elizabeth Beaver of Canton, Ga.; a grandfather, Otis T. Beaver of Maryville, Tenn.; and numerous aunts, uncles, and cousins.
Jonathan was preceded in death by his father, Mark Congelio; and his grandfather, Frank Congelio.
A memorial service will be held Saturday, May 26, at 11 a.m. at the Tabernacle Evangelical Church, 2432 S. Raccoon Road in Austintown. Friends and family will be received one hour prior at the church.
Arrangements are being handled by the Davis-Becker Funeral Home in Boardman.
Visit www.beckerobits.com to send condolences.
Guestbook Entries
Our condolences
"Jamie, I am so sorry for your loss. I remember when both of your boys were born. I know your heart is breaking, but know that I am thinking of you and that you can take comfort in memories. "
» Joan Setty on May 26, 2018
Condolences
"Dearest Josh & Alyvia, Our deepest sympathy to you and your family on the unexpected passing of your brother. Thoughts and prayers to the entire Congilio family during this difficult time . Tom & Josie Willison"
» Tom & Josie Willison on May 24, 2018
RIH
"RIH..Prayers for the family during this difficult time. God bless.."
» Brianna Sharp on May 24, 2018
RIP My condolences to your family and friends.
"I didn't know you but I am a Georgian and I live near Canton. My Condolences to your family and friends. RIP Only the Good Die, Young."
» James Miles Head on May 23, 2018
Sign the Guestbook
---