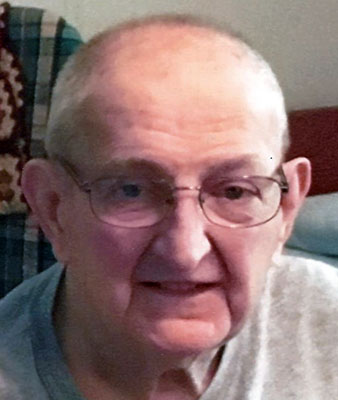 RAYMOND HANUSCAK
CAMPBELL – Funeral services will be Friday, May 18, 2018, at 5 p.m. at the Wasko Funeral Home, followed by a Divine Liturgy at St. Michael Byzantine Catholic Church at 5:30 p.m., with the Rev. Kevin Marks officiating, for Raymond Hanuscak, 90, who passed away early Monday morning.
Ray was born Oct. 9, 1927, in Campbell, the son of Daniel and Mary Kornick Hanuscak.
He was a 1945 graduate of Campbell Memorial High School and was a lifelong area resident.
Ray served his country in the U.S. Army from 1951 to 1953, where he earned the rank of Corporal, while serving in the Korean War. He was a shift foreman and a No. 1 pierce plugger at Youngstown Sheet and Tube, retiring in 1981.
Ray was a parishioner of St. Michael Byzantine Catholic Church, and served as a member of the Civics Club and the Couples' Club and was a long-time church bingo worker. He was a proud volunteer at St. Elizabeth Hospital for many years, a member of the VFW in Struthers, a Little League umpire and an avid bowler and golfer.
Ray will be deeply missed by his wife, the former Rosemary Kochanski, whom he married Sept. 19, 1953, at St. Michael Byzantine Catholic Church; his daughter, Gloria (Michael) Pallante of Boardman; his son, Allen Hanuscak of Columbus; daughter-in-law, Joan (Paul) Ruchtie of Canfield; grandchildren Alyssa (Anthony) Ferraro of Canfield, Anthony Pallante of Boardman, Jeff Hanuscak of Philadelphia, Lisa (Dave) Swarm of Austintown, Mike (Tara) Hanuscak of Columbus, Nick Hanuscak of Georgia, Katie (Adam) McMurray of Boardman, Paul E. Ruchtie of Canfield and Kristen (Adam) Crist of Rootstown; and seven great-grandchildren.
Besides his parents, he was preceded in death by his great-grandson, Eli McMurray, and an infant brother.
Ray's family wishes to especially thank the staff of Austintown Healthcare and Hospice of the Valley for the exceptional care given to Ray during his time of need.
Ray will be laid to rest at St. Michael Byzantine Catholic Cemetery in Campbell.
The Hanuscak family has entrusted their loved one to the care of the Wasko Funeral Home and will receive family and friends Friday from 3 to 5 p.m.
Visit www.waskofamily.com to view this obituary and send Ray's family condolences.
Guestbook Entries
My deepest condolences
"Now is Raymond's time to rest...may Jehovah God the God of all comfort...comfort her family and friends in this time of need...2 Corinthians 1:3,4"
» KMB on May 28, 2018
My deepest Sympathy
"We will miss Mr. Hanuscak, he was alway a pleasure in our Activities!!! He has left us with many fond memories!!! Many prayers for Mrs. Hanuscak and her family!!💕"
» Jacqueline Phibbs on May 18, 2018
In Sympathy
"My condolences to you Mrs. Hanuscak , Gloria and family on your loss. Prayers are with all of you."
» Carla Testa Maker on May 18, 2018
Sign the Guestbook
---