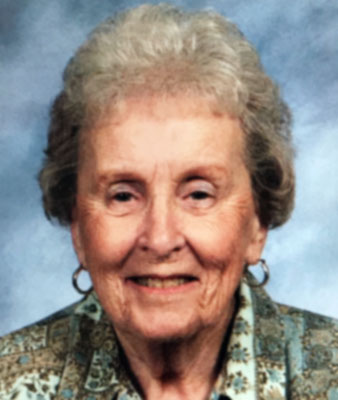 NANCY MILLER BLIVEN
LOUISVILLE, KY. - Nancy Miller Bliven, 90, passed away at Norton Brownsboro Hospital on Thursday, May 10, 2018.
She was born on Christmas Eve 1927 in Warren, to William Joseph and Ruth Frances Miller.
She was a graduate of Miami University in Ohio and a member of Pi Beta Phi Sorority. She had a master's degree from University of Louisville, where she volunteered for many years at the University Club. She was an avid bridge player, a member of the Harvey Browne Memorial Presbyterian Church, the Woman's Club of Louisville, the Woman's Club of St. Matthews, the German American Club and she never met a yard sale she didn't like.
She was preceded in death by her husband, Kenneth E. Bliven; daughter, Frances Bliven Hughes; brother, William F. Miller; and sister, Elizabeth Miller Mountain.
She is survived by her sons, John Kenneth Bliven (Leslye) and William Miller Bliven (Pam); daughter, Jane Bliven Rongey; brother, Jack Miller; nine grandchildren; and nine great-grandchildren.
A visitation will be held on Thursday, May 17, from 4 to 8 p.m. at the Arch L. Heady and Son Funeral Home at Westport Village, 7410 Westport Road. A memorial service will be held on Friday, May 18, at 1 p.m. at the Harvey Browne Memorial Presbyterian Church, 311 Browns Lane.
In lieu of customary expressions, memorial contributions may be made to the Harvey Browne Memorial Presbyterian Church or to the American Red Cross.
The family would like to extend a special thanks to the staff at Norton Brownsboro Hospital, Hosparus, Parr's at Springhurst, and the staff and friends at Brownsboro Park.
Guestbook Entries
« Be the first to sign NANCY MILLER BLIVEN guestbook.
---