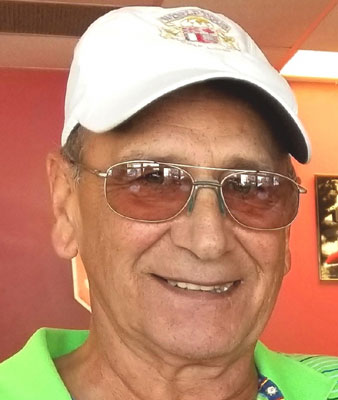 JOHN J. BIDINOTTO SR
WARREN - John J. Bidinotto Sr., 70, passed away peacefully at 10:20 p.m. on Sunday, May 13, 2018, at his residence following an extended illness.
He was born in Youngstown on Feb. 20, 1948, the son of John Carmen and Mary Frances (Antoun) Bidinotto.
He was a 1966 graduate of Mathews High School and honorably served in the U.S. Army. After a near fatal accident to his young father, John (the oldest son) became the "fatherly figure" working at an early age to help support the Bidinotto family in Fowler. He retired in 1994 after working 30 years as a assembler and driver at General Motors in Lordstown. John was an original thinker and received two monetary awards while at General Motors for "inventions" which increased efficiency and production on the assembly line related to window installation. To everyone, he was intuitive and had a keen awareness on how to improve on something and was meticulous in his work.
After his retirement, he became a "jack of all trades". He was a welder, sealed driveways, installed windows and did various electrical jobs.
He was a member of the former St. Vincent dePaul Parish in Vienna and enjoyed the love of a big family and Sunday gatherings with his many aunts, uncles and cousins. John loved racing cars in his youth, camping and hunting in Montana, Pennsylvania and Ohio, was a very talented golfer and enjoyed fishing especially with his nephew, Chase. He and Carol loved spending winters in Myrtle Beach, S.C., where John met his good friend "Russ". John was a good cook and each year he would treat the condo staff to his famous homemade lasagna.
John is survived by his wife and long time friend, Carol (Hurst) Bidinotto, whom he married on May 4, 2016; a daughter, Stephanie Lynn Bidinotto Shelko; son John Joseph Bidinotto Jr.; two granddaughters, Kayla and Emily; great-granddaughter Harley; three sisters, Rebecca Bidinotto and Mike Piskura, Jenny (Jeff) Laslow and Loretta Ecklund; two brothers, David (Mary) Bidinotto and Andrew (Julianne) Bidinotto; half brother Bill Bidinotto; half sister Linda (Bob) Davis; and two stepsons, Charles (Kim) Jayne and Steven (Jen) Jayne.
He was preceded in death by his parents; sister, Sheila Louise Bidinotto Monroe; and a great-granddaughter, Hayleigh Grace.
A Mass of Christian Burial will be Thursday, May 17, 2018, at 11 a.m. at St. Stephen Church in Niles, where family and friends may visit one hour prior to the Mass. The Rev. Craig McHenry will be the celebrant. Military honors will be provided at 10:45 a.m. at the church.
Memorial contributions may be made to Hospice of the Valley 9803 Sharrott Road, Poland OH 44514.
Arrangements are by the Holeton-Yuhasz Funeral Home in Niles.
Visit holetonyuhasz.com to view this tribute and send condolences.
Guestbook Entries
« Be the first to sign JOHN J. BIDINOTTO SR guestbook.
---