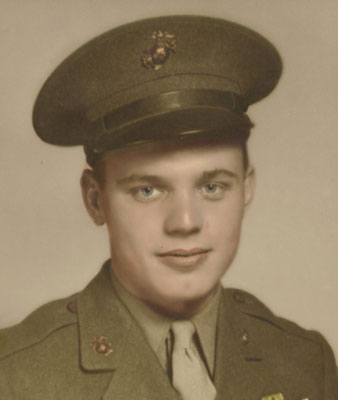 CHARLES E. FLOHR
COLUMBIANA - Charles E. Flohr, 91, died on Monday, May 14, 2018, at Windsor House at Parkside Health Care Center in Columbiana.
He was born on Sept. 16, 1926, in Salem, the son of the late Merlin and Clara Riesen Flohr.
Charles was a veteran of the U.S. Marine Corps, having served throughout the Pacific theater as well as China during World War II.
He was member of the Good Hope Lutheran Church in North Lima and the National Rifle Association. He had worked as an Electrical Technician for RCA/General Electric, retiring in 1987 after 35 years and enjoyed working at his family business, Nemenz Little Shopper in Columbiana. Charles served his community as a police officer before joining the Columbiana Fire Department in 1947, where he served as Fire Chief for 30 years.
His wife of 57 years, Elizabeth Ann Nemenz Flohr, whom he married on June 6, 1954, preceded him in death on Aug. 13, 2011.
He is survived by two sons, Charles A. Flohr of North Lima, and Michael (Sallie) Flohr of Cincinnati. Also surviving are two grandchildren, Catherine (Craig) Rybolt and Andrew Flohr.
Charles was preceded in death by three sisters, Edith Oeler, Dorothy Poulton, and Agnes Ford.
The family will receive friends on Thursday, May 17, 2018, from 5 to 7 p.m. at the Warrick-Kummer-Rettig Funeral Home in Columbiana. Funeral services will be held on Friday, May 18, 2018, at 11 a.m. at the funeral home with Pastor Dave Kamphuis officiating. Burial will be at the Columbiana Cemetery, where military honors will be accorded by the Benjamin Firestone Post No. 290 American Legion.
In lieu of flowers, donations may be made to the Columbiana Firemen's Association, C/O Chief Garrity, 43498 Metz Road, Columbiana, OH 44408.
Family and friends may visit www.familycareservices.com to view this obituary and send condolences.
Guestbook Entries
« Be the first to sign CHARLES E. FLOHR guestbook.
---