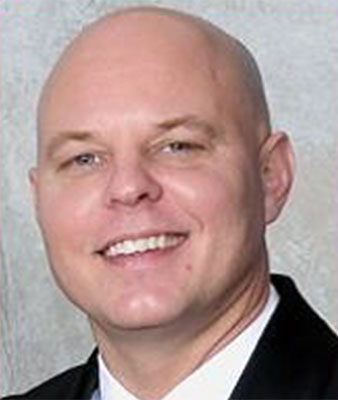 BRADLEY CRAIG DAUGHERTY
NORTH JACKSON – Bradley Craig Daugherty, 49, went to be with his Lord and Savior on March 29, 2018, after a short battle with cancer.
He was born in Youngstown, on Oct. 10, 1968, to Daniel and Charlene (Marsh) Daugherty.
He graduated from Jackson-Milton High School in 1987. In the year 2000 he graduated with highest honors from ITT, earning his degree in Electronic Engineering Technology. He quickly began his career as a Field Service Engineer for Healthtronics out of Austin, Texas in 2000. He joined Farmers National Bank in 2003, becoming an Assistant Vice President and the Manager of their Columbiana branch. He was passionate about his job and was committed to his staff as a mentor and friend.
He was on the Board of Directors of the Columbiana Chamber of Commerce and was the President of the Mahoning County Lion's Club. Brad was proud of his fundraising efforts for those in need. He was an avid fan of the Cleveland Cavaliers, Browns, Indians and The Ohio State Buckeyes. Brad had a sharp wit and keen sense of humor and was known to play the occasional practical joke on an unsuspecting victim. His laughter was infectious (even at his own jokes). "Brad was funny."
His interests varied, from music concerts, fantasy football, golf, playing guitar, and classic sitcoms, to mystery escape rooms and traveling on cruises. The backyard tag football games with his brothers and nephews were the highlight of his family gatherings.
He leaves behind his beloved wife, Lori and their cats, Meowy and Kitty.
Awaiting his arrival at the "Rainbow Bridge" is his deceased best friend, his golden retriever, Kayla.
Brad is survived by his wife, Lori Daugherty; his parents, Daniel and Charlene Daugherty; his sister, Lori Edwards; his brothers, Joseph (Lisa) Daugherty and Eric (Patti) Daugherty; his "extended family-in-marriage," Eleanor Haddix, Aaron (Cheri) Smith and Rick (Melissa) Haddix; nieces, Kori, Melanie, Kaylee, Marybeth and Tabitha; and nephews, Rayce, Andrew and Will.
Per Brad's request there will be no funeral services.
There will be a "Celebration of Life" the Summer of 2018, date TBD.
Please visit www.NewcomerAkron.com to leave a special message for the family.
Guestbook Entries
Thoughts of Brad
"I am so sorry for your loss, Dan , Charlene and family. My thoughts and prayers are with you all during this sad time."
» Marjorie Goldner on March 30, 2018
From a former teacher
"Brad was one of my students in high school. I loved that he had a beautiful smile on his face every time I saw him. He was funny and made everyone laugh. Brad was one of my favorite students. My thoughts and prayers are with his family. From today on he will no longer be suffering. Rest in piece Brad."
» Shirley Hemphill on March 30, 2018
"Light Up Damascus"supporter
" What a wonderful partner in support of worthy causes! There could not have been a more dedicated soul then Brad when it came to commitment to a project in the community he was affiliated with. In the short time that I knew Brad, he showed me the true meaning of care and dedication for others. I have been blessed to have known him and am saddened by this loss. Thanks to his family for sharing him with all of us."
» Jan Baswell on March 30, 2018
My condolescenses
"To the Daugherty family, I am so sorry to hear of the loss of Brad. I had the opportunity in working with Brad at Farmers. He was always a delight to talk with and his laughter was contagious. He will truly be missed. May God give you comfort and strength during this difficult time. You are all in my prayers. Debby Fosnaught"
» Debby Fosnaught on March 31, 2018
From a grateful customer
"I only knew Brad for a short time as I went to Damascus Farmers Bank and he was sent to Columbiana - he was always so helpful and kind and when I would be in Columbiana at the doctors I would always think "I should stop in to see Brad" - he became just that kind of friend, you were comfortable with him. My thoughts and prayers will be with his loving family for the months ahead because you will feel his loss for some time. We were all better off for knowing him. "
» Barbara Smith on March 31, 2018
Loving Prayers
"I worked with Brad for many years at Farmers National Bank. He was always so kind and supportive in every way possible. He truly loved his work and his family. Brad will be missed greatly! Sending my prayers and love to his family especially his mother, Charlene. May you find comfort in his loving memories!"
» Rhonda Learn on April 2, 2018
Sign the Guestbook
---