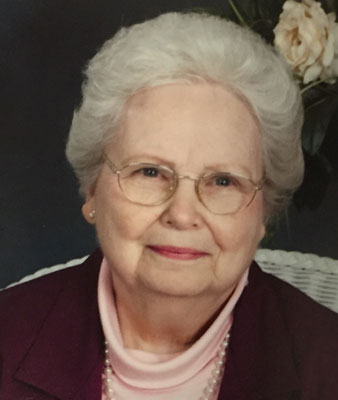 PHYLLIS I. CONROY
CANFIELD - Funeral services will be 11 a.m. on Wednesday at the Canfield United Methodist Church 27 S. Broad St., for Phyllis I. Conroy, 89, of Park Vista Assisted Living, formerly of Canfield, who died Friday evening at Park Vista.
Phyllis was born Dec. 2, 1928, in Youngstown, a daughter of the late Robert and Hazel (Murray) Burnett and was a lifelong area resident.
She graduated from The Rayen School and had attended Youngstown State University. Phyllis was a member of the Canfield Methodist Church, the United Methodist Women, Canfield A.A.R.P. and the D.A R. She was a member of the Canfield Republican Women for over 50 years, P.E.O. the Junior Wimodaughsis club, and the Ladies Auxilliary of the Youngstown Area Grocers.
Along with her husband, Phyllis had owned and operated the Conroy's IGA on Youngstown's westside. Her husband, Thomas Conroy, whom she married July 16, 1976, died Feb. 5, 2002.
Phyllis leaves a brother, Charles (Gerri) Burnett of Clearwater, Fla., and her children, Barbara (Tom) Bautsch of Marysville, Nancy Butcher Shepard of Dublin, Cynthia (John) Reid of Tuscon, Ariz., Patricia Potkay of Youngstown, Mary Kay (Joe) Long of St. Simons Island, Ga.,Thomas (Barb) Conroy of Munroe Falls, Barbara (Ted) Cieslak of San Antonio, and Janet (Roy Gutierrez) of Boardman. Phyllis also leaves 16 grandchildren and 18 great-grandchildren.
Besides her parents and her husband, Phyllis was preceded in death by a son-in-law, Stanley Potkay; a sister, Norma Wortman; and a brother, Robert Burnett.
Friends may call on Tuesday from 4 to 7 p.m. at the Lane Family Funeral Homes, Canfield Chapel and for one hour prior to the service on Wednesday at the church.
In lieu of flowers, memorial contributions may be made to: Ohio Living Home Health and Hospice, 6715 Tippecanoe Rd., Building E, Suite 201, Canfield, OH 44406.
Family and friends may visit www.lanefuneralhomes.com to view this obituary and send condolences.
Guestbook Entries
PS salon
"I was so sorry to hear of Phyllis passing my deepest condolences. I had the pleasure of doing her hair at Park vista she was lovely lady we will all miss her."
» Alma Cummins on March 21, 2018
Sorry for your loss of your morher
"Sorry for your loss if ypur mother"
» Debbie A (babb)Krejci on March 19, 2018
Deepest sympathy
"Dear Barb, I am so sorry for your families loss. Your mom was a very dear sweet lady. I always enjoyed when she came into the library and we would chat, about books and the grandchildren. Know that you are in my thoughts and prayers"
» Linda Lanterman on March 20, 2018
she was such fun
"We never had the privilege of meeting any of you, but your mom joined out monthly bridge club when Burt Bryan died. She was so much fun to have in our group, and we really missed her when she decided to stop."
» Tae and Linda Ro on March 20, 2018
Sign the Guestbook
---