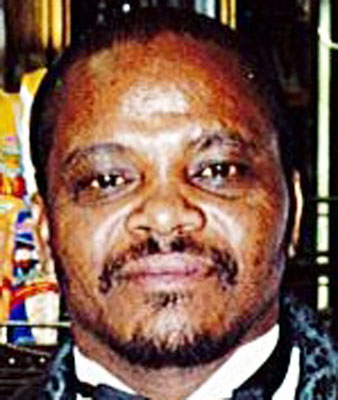 WILLIE LEE 'RICKY' CARTER SR
YOUNGSTOWN – Willie Lee "Ricky" Carter Sr., 52, passed away suddenly Saturday, March 10, 2018, at St. Elizabeth Health Center.
Ricky was born April 5, 1965, in Whitesville, N.C.
Ricky had worked as an orderly at various nursing homes, was a delivery man for Little Jimmy's Pizza, and also worked as a server at Holiday Inn on Belmont Avenue He had been a boxer in his younger years, and was an avid Pittsburgh Steelers fan. He enjoyed watching Law and Order and NCIS.
Ricky leaves to cherish his memory, the love of his life, Connie Huston; his children,  Shantel Dodson, Willie Lee Carter Jr., Sheray Carter, Darel Dodson, Rickcal Carter, and Ricky Carter, all of Youngstown; his sisters, Janis Carter of North Carolina, Genis Carter of Fore, Ala. and Patricia Carter Robins of Youngstown; his brother, Richard Carter of Youngstown; 17 grandchildren; and many nieces and nephews.
Ricky was preceded in death by his mother, Loretta Carter, stepfather Eddie Langfort, and many friends and family.
Funeral services will be held on Saturday, March 17, at noon at the Blackstone Funeral Home in Girard, where the family will receive relatives and friends from 11 a.m. until the time of service.
Anyone that wishes to attend can wear Steelers items to honor him.
Visit www.blackstonefuneralhome.com to view this obituary and to send any condolences to the family.
Guestbook Entries
Condolences too family
"Rest in peace brother. "
» Mike O'Neill on March 14, 2018
RIH,LOVE ALWAYS.
"RICKY YOU WERE LIKE A LITTLE BROTHER TO ME,YOU WILL BE MISSED , BUT NOT FORGOTTEN."
» sheila ward davis on March 14, 2018
Home going
"You and your family were my neighbor for many years. You and my son Anthony were acquaintance for me years back in the day. your children were also friends with my grand children R.I.H Rick!"
» Sally Hawkins on March 14, 2018
R.I,P BIG RICK
"To the carter family, may god comfort you all ,,,, trust in god, for he is present even when times are rough,,,, rick will be sadly missed but not forgotten,,,"
» Mr,Dwayne Arrington and family on March 14, 2018
my condolence
"Rick was a good friend and I like to send my condolences to the family and friends so sorry for your loss may he rest in peace"
» Linda on March 15, 2018
Loss of a good friend
"So sad to hear about Rick sending my condolence to the family and friends so sorry for your loss, may he rest in peace"
» Linda Carter on March 15, 2018
We are sorry for your loss we loved Rick.
" Rick was my brother Daryl's best friend we all knew him as family and loved him our family sends prayers and condolences to his family"
» Kimberly Trice. Daryl Trice and The Trice Family on March 17, 2018
I love you Uncle Rickey
"Today is your birthday, an I miss you so much. My heart still drops when I think of your home going. Even though you had your children me, Trel, and Boog were like your children to. Miss you so much love you so much UNCLE RICKEY."
» Tonna L CARTER on April 5, 2018
R.I.P.
"Going to miss you Bro! Good times since 7th grade."
» AJ Skratch on May 5, 2018
Sign the Guestbook
---