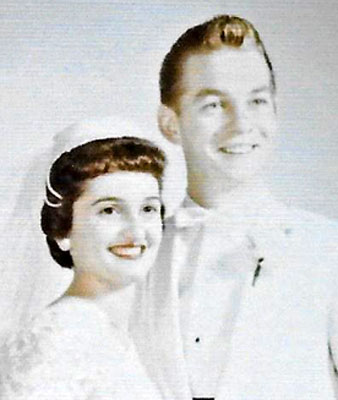 PHYLLIS CAROL SLAINA
"Together Again"
POLAND – There will be a Mass of Christian Burial Friday, March 16, 2018, at 10 a.m. at Our Lady of Mt. Carmel Basilica in Youngstown, with the Very Rev. Msgr. Michael J. Cariglio Jr. officiating, preceded by a 9:15 a.m. prayer service held at the Rossi & Santucci Funeral Home, 4221 Market St. in Boardman, for Phyllis Carol Slaina, 81, who passed away Monday morning, March 12, 2018, with her loving family by her side.
Phyllis will always be remembered and loved for her strong-willed personality and her devotion to her family.
She was born Feb. 12, 1937, in Youngstown, the daughter of James and Anna (Palma) Yannarella, and was proud of growing up on the East Side of Youngstown.
Phyllis was a 1954 graduate of East High School, and a member of the ARCO Club. She was also a proud member of Our Lady of Mount Carmel Basilica where she always looked forward to attending its annual Italian Festival. Besides being a homemaker, Phyllis retired from the Youngstown City School System as a secretary.
Her family will miss all the Sunday dinners along with all her excellent cooking and baking, especially her homemade spaghetti sauce which she made from the canned tomatoes that Phyllis did with her mother and sister every year. Phyllis had many passions throughout her life. She enjoyed gambling, playing cards, and vacationing in Florida.
Her husband, Richard "Doc" Slaina, whom she married May 21, 1960, at Our Lady of Mount Carmel Church, died Nov. 29, 1984.
She leaves to cherish her precious memories, her three sons, Richard Slaina of Poland, Jeffrey Slaina of Youngstown, and David (Tami) Slaina of Struthers; five grandchildren, Richard Jr., Payton, Jett, Marissa and Isabella; a sister Patti Testa; two sisters-in-law, Theresa (Joe) Koken and Gail Yannarella; along with many nieces, nephews, cousins and friends.
Besides her parents and husband, Phyllis was preceded in death by a daughter Lynn Slaina; a brother James Yannarella; a brother-in-law John J. (Mary) Slaina; and a sister-in-law Irene (Roy) Curtis.
Family and may pay their respects Thursday, March 15, 2018, from 4 to 7 p.m. at the Rossi & Santucci Funeral Home, 4221 Market St. in Boardman, (new location). Burial will take place at Lake Park Cemetery in Youngstown.
On behalf of Phyllis's family, they would like to extend their heartfelt gratitude and appreciation to the entire staff of Shepherd of The Valley, Dr. Robert Spratt and St. Elizabeth Health Center for all the care and compassion shown to Phyllis during her times with them.
Family and friends may visit www.rossisantuccifh.com to view this obituary, sign the guestbook and send condolences to the Slaina family.
Guestbook Entries
Slaina Family
"So sorry for your loss."
» Debbie Nicholas on March 14, 2018
Condolences
"My sincere and deepest sympathies to you and your family Rich. May your mother Rest In Peace. "
» george nakley on March 14, 2018
Condolences
"I'm so sorry for your loss Richard, Jeff, David and the family. May Rest In Peace. "
» Denny and Cooikie Weaver on March 14, 2018
So sorry for your loss...
"From the Hamilton Family down here Orlando, FL, our thoughts and prayers are with the Slaina Family. Our family always enjoyed Phyllis and her family visits down here Orlando. We will always have great memories of her vacationing down here in Florida and of course our time with her up in Ohio. Hands down, she made some of the very best Italian food, that we have ever had!! Rest in Peace."
» The Hamilton Family on March 14, 2018
Condolences
"Our sincere condolences to Rich,Jeff and David on the loss of your mother. Our prayers are with you and your families during this difficult experience. May she Rest in Peace"
» John & Gerry Kopp on March 14, 2018
Condolences
"Rich, David and Jeff, very sorry for the passing of your mom. I wish peace for you, love and prayers for the family. Annette Helm and Family"
» Annette Helm on March 15, 2018
Heartfelt Sympathies
"Richie, Jeff, and David ~ We are so terribly sorry for the loss of your Mom. Our thoughts and prayers are with you and your family. God Bless! Rick and Cindy Camardo and Family"
» Rick and Cindy Camardo on March 16, 2018
Sign the Guestbook
---