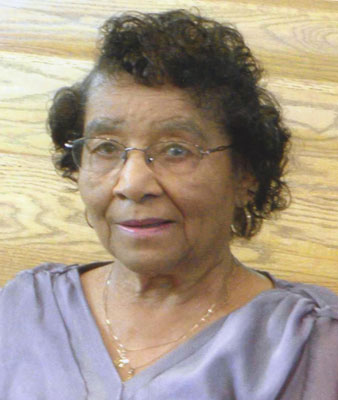 NEATHER TURNER
YOUNGSTOWN - Mrs. Neather Turner, 92, entered eternal rest on Thursday, March 8, 2018, with her beloved family by her side
Ms. Turner was born May 3, 1925, in Marianna, Ark., a daughter of Rufus and Odessa Robinson Thornton.
Mrs. Turner came to Youngstown in 1946. She met James Turner and on Jan. 2, 1947, they were joined together in holy matrimony. She remained married to Mr. Turner for 66 years, until his passing on Jan. 22, 2013.
Neather was employed at Strouss Hirshberg (now known as the May Company) from 1969 to until her retirement in 1990.
She joined the Mt. Zion Baptist Church in 1947 and was a member of the Nurses and Altar Guilds. She was also a charter member of the Donald Lockett VFW Post 6488 – Ladies Auxiliary.
She leaves to forever cherish her beloved memory, three sons, Alfonso (Jacalyn) Turner of Youngstown, with whom she made her home, and who were her devoted caregivers, Anthony (Sandra) Turner of Columbus, and Allen Turner of Washington, D.C.; one sister, Mildred Black, of Columbus; two brothers, Melvin (Johnny Mae) Thornton of Chicago, and Edward (Helen Sue) Thornton of Marianna, Ark.; seven grandchildren; 17 great-grandchildren; one great-great-grandson; and a host of other family, church family and friends.
She was preceded in death by her parents; five brothers, Dutley, Curley, Herbert, Genter and Rufus Thornton; three sisters, Odessa Whitley, Lessie D. McCoy and Armentha Darnell; and her closest friend, Nettie Evans, who was like a sister.
Friends may call Friday, March 16, 2018 from 10 to 11 a.m. at the Mt. Zion Baptist Church, where funeral services will follow immediately at 11 a.m.
The family wishes to thank The Hope Center, MVI Hospice, Valley Home Health, and Real Care Homecare.
Arrangements entrusted to the L. E. Black, Phillips & Holden Funeral Home.
Guestbook Entries
Condolences
"The family have my most sincere condolences. "
» Rosia Pinkston on March 16, 2018
Heaven is Celebrating! An Angel is Home!
"To the Turner Family - May God bless you during this time of difficulty. Please know that you are in my prayers but also in my praise. What an incredible Woman of God! I am thanking God, Praising His Holy Name for your incredible mother, grandmother, auntie, church member, friend! Please lean on God's everlasting love and word and in all things, please give him Praise! May God bless you mightily! Pho"
» Pho Palmer Murphy on March 15, 2018
You are not alone
"We pray for your strength during these days, God will see you through, when it seems dark he is right there to see you through, death is something we never get use to, but we do have a hope in God."
» Rev Michael Mann on March 15, 2018
Blessed Assurance, Jesus Is Mine
"I've only spoken to her one time. I knew after she spoke to me she was truly a blessing mother to her sons. May she rest in peace."
» Garry Calhoun on March 15, 2018
God has another Angel
"Everyone's life that you were apart of, Knows what a sweet and caring person you were. Though you are gone, Your kind words of wisdom will always be remembered. You were like a second mom to some of us. You will be missed and remembered by all that knew you. Rest in Heaven"
» Danette J Hubbard-Taylor on March 15, 2018
My deepest sympathy
" I am still saddened about the loss of your beautiful mother. My thoughts and prayers are with you as I'm thinking of you doing these difficult times. Please always cherish the wonderful memories of your beautiful mother and hold these memories close to your heart as these precious memories will always bring you peace and joy. I still remember the sparkle in your eyes or the smile on your face whenever you talked about your mom. Whenever I was around you, it was evident in your voice just how much you truly loved your mom. Please know that God is your strength and during this sad time in your life when you see only one set of footprints in the sand, know that it is then that the Lord is caring you."
» France Lewis on March 15, 2018
My deepest sympathy
"Rest in peace prayers to the family this is Shirley's husband if you don't know I'm sorry I can't make it to the church"
» Mike bukovinsky on March 14, 2018
She's Going Home
"Rejoice knowing your beautiful mother is with GOD. No more pain. Going Home to Heaven. The best of all blessings. GOD will keep you strong as you grieve during this difficult loss. "
» Dionne Davis on March 14, 2018
My sincere condolences
"To my long-term friend Allen, who has been like a brother, and to the family of Mrs. Turner. You have my deepest sympathy at this difficult time. In all of life no one is like a mother for it is she who first shows us love by facing great pain to bring us into the world. Mother is first to feed us, nurture us and comfort us. She is God's first gift to us all. But be encouraged God is still a comforter and know that earth has no sorrow that heaven cannot heal. Be strong and of good courage, God will strengthen your hearts. You are in my prayers. "
» David Reeves on March 14, 2018
Sign the Guestbook
---