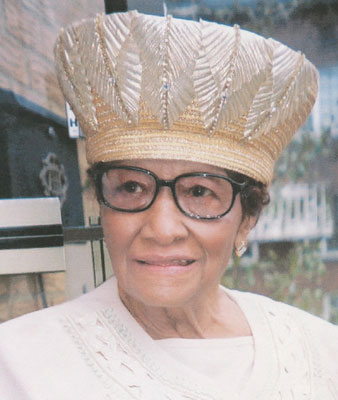 MATTIE L. BUTLER
YOUNGSTOWN - Mother Mattie L. Butler gracefully departed this life Thursday, March 8, 2018, at ValleyCare Northside Medical Center as Heaven's Angels welcomed her home to be with the Lord.
Mother Butler was born April 9, 1921, in Macon, Ga., a daughter of Elijah and Mary Thomas Lockett.
In 1937, Mattie moved to New York City and relocated to Youngstown in 1942, where she met her husband, Johnnie Butler, they were married in 1943, until his death Oct. 5, 1984.
Mattie joined the Bethel Church of God in Christ in 1954 under the pastorate of Bishop R. S. Fields. Mattie loved the Lord with all her heart and was a faithful worker. She was a very active member of the church. Under Bishop Fields, she was the financial secretary, Young People Willing Workers (YPWW), and on the Nurses Guild. In 1994, under superintendent and Pastor Ross Johnson, Mattie was the church Financial Clerk until November of 2017.
Mattie attended Youngstown State University, receiving certification in Business Management, where she began her catering business, specializing in French cuisine foods. She loved cooking and preparing meals for the sick and shut-ins, and always provided food to everyone that came to visit with her at her home. She also provided dinner to people in the neighborhood with children.
She leaves to cherish her memory, her daughter, Joan (Albert) Pleasant; four grandchildren, Madena (Robert) Mitchell and Damon Penson both of Youngstown, Darren (Renotta) Penson of Cleveland Hgts., and Martie (Robert) Brown of Arlington, Texas; eight great-grandchildren; four great-great-grandchildren; her nephew, that was also there for her, Edward Lockett; her godson, Robert Reynolds; goddaughters Star Maxwell and Candy Morton; her beloved friend, Mother Rilla Blackwell; and a host of nieces, nephews and friends.
Her memories will also be cherished by her extended family members of over 40 years, Mrs. Nicolette Bleacher and her children, James (Shaye) Bleacher, Joseph (Kathryn) Bleacher, all of Youngstown, Nicolette Bleacher of Ellwood City, Pa., Dr. John (Angela) Bleacher of Atlanta, Jake (Michelle) Bleacher of Westerville, and Jeffrey Bleacher of Bel Air, Md.
She was preceded in death by her parents; her husband; three brothers, Edward, Jehu and Estee Lockett; four sisters, Beatrice, Letha, Olivette and Alberta; and her dear friend, Dr. John Bleacher.
Mother Mattie Butler will be missed by the Bethel C.O.G.I.C. Family.
Friends may call Friday, from 10 a.m. to noon at the Bethel Church of God in Christ. Funeral services will follow immediately at noon.
Arrangements entrusted to the L. E. Black, Phillips & Holden Funeral Home.
Guestbook Entries
To my grandmother (my wee one)
"I miss you soo much already. I was getting ready to call you as I do every other night and I caught myself. She's not there Pinky. Extreme out right bawling, I told myself " She's not answering her home phone because she is home. " I still reserve your spot in Sunday School and I have your Bible with me. Because I take you everywhere with me too. Take your well deserved rest in God's arms Mama Mattie. I LOVE YOU SO MUCH!!👼 - Dena"
» Madena Mitchell on April 7, 2018
My Prayers..
"My Thoughts and Prayers are with the Family at this time of sorrow..My Deepest Condolences.. Cathy"
» Catherine Marsh Reed.. on March 14, 2018
Sign the Guestbook
---