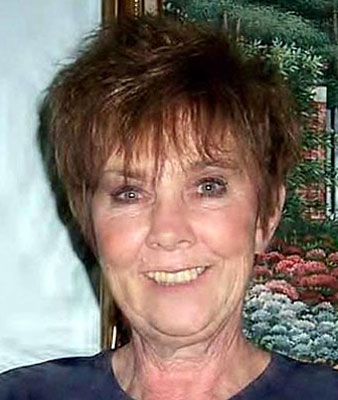 KATHERINE JOY JENKINS
AUSTINTOWN – Katherine Joy Jenkins, 77, passed away early Monday morning, March 12, 2018, at Shepherd of the Valley in Boardman.
Katherine was born Nov. 10, 1940, in Fort Worth, Texas, a daughter of the late John and Nancy Hall. She was a graduate of Pascal High School in Fort Worth, and came to this area in the early 1960s.
She worked at Easco Aluminum in Austintown, and then for the J.C. Penney styling salon in the Austintown Plaza for over 20 years.
Kathy had a passion for animals. She spent much of her life rescuing animals in trouble, and she enjoyed feeding birds and squirrels. She enjoyed holidays and spending time with family, and she liked cruises and traveling to Texas to visit her sisters.
Kathy was a very charitable person. She was a Partner in Hope for St. Jude Children's Hospital, and she donated to several area animal charity groups, to the Rescue Mission, and to the Second Harvest Food Bank.
Katherine leaves two daughters, Pamela Jenkins (James Markovich) of Youngstown and Sharon Ilovsky of Youngstown; a grandson, Stephen Ilovsky; three sisters, Gail Foster, Mary Ann (Fred) Sutter, and Betty Burge, all of Texas; and several nieces and nephews throughout the country.
At Katherine's request, private family services will take place at a later date.
Arrangements were entrusted to Kinnick Funeral Home, 477 N. Meridian Road in Youngstown.
Thanks from the family to Pastor James Berkebile and the congregational family at the Struthers Parkside Church, for all of the continuous thoughts and prayers during this difficult time. Special thanks and love to Kathy's best friend, Diane, and to everyone associated with the Penney's styling salon, for their love and friendship over the past several years. Special thanks to the staff with Hospice House, and to the staff with Shepherd of the Valley in Boardman, for the extraordinary kindness shown and care given to Kathy and her family during her stay.
Very special thanks from the family to everyone for their love, support, and prayers. Thanks to Jimmy and Steve, for caring for "mom" in an extra special way.  Love and kisses to her only grandchild, Stephen, who was the light of her life, and to Jennifer, Jamie, Neveah, and D.J., who she always considered her grandchildren and great-grandchildren.
Memorial contributions may be made to Shepherd of the Valley, Shepherd Foundation Employee Appreciation Fund, 7148 West Blvd., Boardman, OH 44512.
"All the pain and grief is over,
Every restless tossing passed;
I am now at peace forever,
Safely home in heaven at last."
"We love you mom, you will always be our joy and our angel."
Please visit www.kinnickfuneralhome.com to view and share this obituary, and to send condolences online to Kathy's family.
Guestbook Entries
Tribute
"Sincere condolances, "
» Darrel Passewitz on March 14, 2018
My dearest friend👩‍❤️‍💋‍👩
"My heart is broken but I know you R in a better place. I will never forget all R long talks on the patio and shopping for those special flower baskets. You will be in my heart forever. Give Marsha a big hug when you get to Heaven ❤️❤️❤️"
» Diane Scandy on March 14, 2018
Condolances
"So sorry for your loss. Our prayers are with you."
» Peggy Meadors on March 14, 2018
❤️
"I know how alone you will feel on this journey of losing your Mom. Please know that I will be here for you every day for as long as you need me my friend. She was an example for all of us the way she lived life and had such a caring heart. You and Sharon are truly an imprint of your Mom. Your mothers soul is now at peace in the arms of our Heavenly Father. I Love You. "
» Janet Newton on March 14, 2018
Tribute
"My sincere condolences to all of Katherine's for their loss. I have missed and will continue to miss Katherine's presence at the J. C. Penney Salon Desk. It was always a joy to see her smiling face and to talk to her at my appointments over the years. Rest in peace my friend."
» Carol Cubellis-J.C. Penney Customer on March 26, 2018
Sign the Guestbook
---