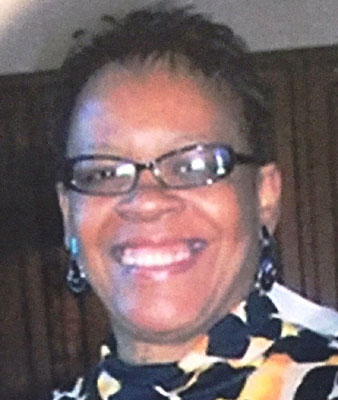 DIANNE ELIZABETH PRICE
YOUNGSTOWN - Services will be held at 10 a.m. on Saturday, March 17, 2018, at the L.E. Black, Phillips and Holden Funeral Home for Dianne Elizabeth Price, 64, who entered rest on March 11, 2018, at Shepherd of the Valley in Poland.
Mrs. Price was born on June 22, 1953, in Youngstown, a daughter of George W. McKeithen and Myrtle E. Bankston.
She was a 1971 graduate of North High School.
Dianne was a former member of New Vision Ministries in Struthers and St. James Church of God in Christ in Youngstown. In 2011, Mrs. Price retired from the Youngstown Employment and Training Association after 31 years of employment. She then became a cashier at Eastern Gateway Community College.
Dianne was preceded in death by her mother; her husband, Singleton E. Price, whom she married Aug. 12, 1978; and a daughter, Shanelle (Shelly) L. Price.
She leaves to mourn her passing, a son, Ashante (Julie) Taltoan; three sisters, Glenda C. (Roderick) Jordan, Wanda F. Baker, and Erica L. (Michael) Forney, all of Youngstown; four brothers, Devron Robinson of New Castle, Pa., Kevin McKeithen, Charles Gant, both of Youngstown, and Marlon (Angela) Gant of Rex, Ga.; her VB, Flo Denson; and a host of nieces, nephews, other family members and friends.
Friends may call from 9 to 10 a.m. at the funeral home. The funeral begins at 10 a.m.
The family extends a special thanks to Shepherd of the Valley in Poland and Hospice of the Valley for caring service.
Guestbook Entries
My Friend
"My dear friend I did not see you often but always remember in elementary school on our first encounter with that bright smile. Going miss you but your mission is completed here until we meet again. RIH! "
» Paulette Johnson on March 14, 2018
You will not be forgotten
"Dear family of Diane Price ,from the first time I met Diane I knew she was special.I will always remember her beautiful smile and that great bear hug ! Rest now sister !"
» Marilyn Cole on March 15, 2018
Missing you dearly
"Hey auntie this is your neice Iesha I'm sorry I NVR made it to come and visit you during your time here on this Earth but I wanted you to know I'm hear with you in spirit and I'm really going to miss your beautiful smile remember the Easter I was at your house and I ate all them eggs lol I will never forget that day I truly truly miss you so much I'm so sorry for not coming to see you I love you with all my heart but I'm glad you don't have to suffer anymore The Good Lord has called you home Rih auntie Dianne price your truly going to be missed Gone but not forgotten love you so much one day we will meet again when the Lord is ready"
» Iesha Robinson on March 15, 2018
To The Forney, McKeithen, Jackson family
"To Dianne's family, I will forever remember her smile when I first came to visit St. James, she was the usher on that morning and her smile and hug had me come back to visit. Over the years you never knew if she was having a trying day, because she was always positive and smiling. RIP Diane you have certainly earned your crown.👑👑👑👑"
» Sheila Moore on March 16, 2018
You were one of a kind
"Dear Diane, I remember talking to you every day at the bookstore at EGCC. You were such a nice lady. Always full of joy, smiling and brightening our day with kind words. I would come in there every day, just to speak to you because that's just how much of an impact you had. I remember one day standing in there talking to you and I was going on about my new little grandbaby. Then I pulled out her picture to show her to you, and you said, "That is my great niece Chasity." From that moment on, I greated you with a hug and made it my business to come there to talk to you every single day. I miss your warm spirit and beautiful smile. Diane, you have been deeply missed. Much love my dear friend, Much love! 😢"
» Lisa Maiden on March 17, 2018
Sign the Guestbook
---