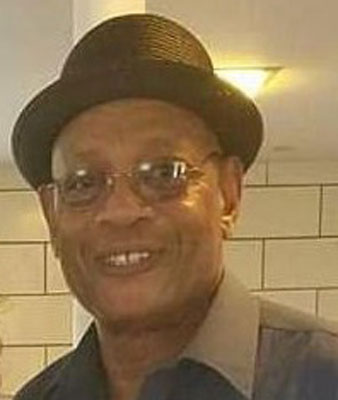 CLIFTON 'CLIFF' COLYAR
YOUNGSTOWN – A funeral service celebrating the life of Mr. Clifton "Cliff" Colyar will be held Saturday at 11 a.m. at the J.E. Washington Funeral Home. Mr. Colyar departed this life March 6, 2018, at his residence in Youngstown.
Mr. Colyar, known to his family and friends as "Gino," was born March 9, 1948, in Youngstown, a son of Noble and Ora Lee Spires Colyar.
He proudly served in the U.S. Navy and was formerly employed with the Youngstown Board of Education where he served as a teacher's aide. He served as the treasurer and president of the resident council for the Amedia Plaza apartment complex where he lived for over 10 years. He enjoyed listening to music, especially jazz, and was a die hard Pittsburgh Steelers fan.
He leaves to cherish his memory, his loving siblings, James Lee Colyar Sr. of Youngstown, Lewis Lee Colyar of Pittsburgh, Elnora Mitchell of Beuford, S.C., and Loretta McClellan of Chicago; a host of nieces, nephews, and other relatives; and dear friends, including his companion, Davida Martin Brown of Youngstown.
He was preceded in death by his parents, and his sisters, Julia Mae Cochran and Alberta Colyar Tellington.
The family will receive friends on Saturday from 10 to 11 a.m. at the funeral home. Interment will be in Ohio Western Reserve National Cemetery on Monday, March 19, 2018.
Ministry of comfort and transitional care entrusted to the J.E. Washington Funeral Services
Guestbook Entries
Thank you Uncle Cliff
"May you rest in Peace Uncle Cliff. You will be Missed by all. Your niece Micky. "
» Michelle L Colyar on March 15, 2018
Our Sympathy
"Jim and Family , we are so sorry for your loss. We will be thinking and praying for you in the days to come. May your loved one Rest in Peace, Lee and Al Moran"
» Al Moran on March 14, 2018
My condolences
"Sending my condolences to the family. He was family to us. Know Cliff all my life. He will be truely missed. ."
» Rachel Garrett on March 14, 2018
Peaceful Journey
"Rest in God's peace my brother. May God continue to comfort your family during the time of grieving. I pray for an overflow of good memories of the good times spent together."
» Johnathan White on March 17, 2018
Sign the Guestbook
---