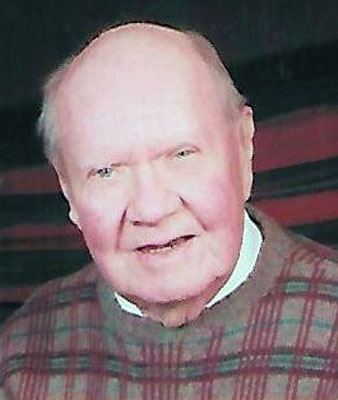 WILLIAM M. PALOMAKI
STRUTHERS – Services for Mr. William M. Palomaki, 86, will be Thursday, March 15, at the Zion Lutheran Church, 3300 Canfield Road at 6 p.m. William passed away Friday afternoon at home, with his loving family.
"Bill" was born on July 31, 1931 in Lowellville, a son of Svante and Elizabeth Anntila Palomaki.
Bill was a graduate of Poland Seminary High School in 1949.
He was a veteran of the U.S. Army, serving in the Korean War from 1952 to 1954.
William also known as "Walter" later in life, worked for Sears Department Store as the manager of the paint and receiving department, retiring in 1994.
Bill was a past member of Christ Lutheran Church, where he was the Sunday School Superintendent. He was a member of the Zion Lutheran Church in Cornersburg.
He was a member of AMVETS No. 44, Arco Club and Sears retirees. Bill enjoyed hunting, fishing, and golfing. He loved to travel and camp across America, including Pymatuning State Park.
Bill had a bucket list including grandchildren, a trip to Alaska, and the Daytona 500 which he accomplished. He was well known for saying a prayer for anyone who came to see him or called him on the phone.
William is survived by his wife, Marian Dankovich, whom he married on May 12, 1956. He leaves a son, William D. (Elizabeth) of Youngstown and a daughter, Cindy (David) Benedict of North Lima. Bill also leaves four grandchildren, Olesia Benedict, Brandon, Jaiden, and Devan Palomaki. He also leaves a sister, Arlene Cramer of Struthers; two brothers-in-law, John Dankovich and Edward Gabrick; a sister-in-law, Irene Junkin; and many nieces and nephews.
William was preceded in death by his parents; two brothers-in-law, Louis Dankovich and Thomas Junkin; and two sisters-in-law, Vera Gabrick and Sally Dankovich.
Friends and family may call one hour prior to the service on Thursday at the Zion Lutheran Church.
Bill's family would like to thank Hospice of the Valley, Tracy the nurse, along with Comfort Keepers caregiver, Sandy.
Funeral arrangements were handled by the Szabo and Sons Funeral Home in Youngstown.
Guestbook Entries
Sympathies
"Sympathy and prayers to the family at this most difficult time. Mr. Palomaki was always such a nice man and symbol of Christ Lutheran church."
» Denise Schwab Yoho on March 13, 2018
Deepest sympathy
"I am so sorry to hear about your loss. I have fond memories of Bill from visiting his parents when I was a little girl. My thoughts and prayers go out to you during this time of sorrow."
» Sherry (Anttila) Cwiakala on March 14, 2018
Deepest Sympathies
"Marian, Cindy,and Bill , So sorry to hear of Bills passing. He's having a happy reunion and talking about fishing and hunting stories already. I know how much you're all going to miss him, but he's in a much better place now,as you know, and will be waiting to see us all when we get there. I enjoyed talking to him on the phone about my Dad . My prayers are with you all. I will get ahold of you soon Marian.Much Love, Penny"
» Penny Berdie Schlienz on March 17, 2018
Deepest Sympathy
"John and I are very sorry to hear of Bill's passing. I remember him being a very kind person we enjoyed seeing at Aunt Betty and Uncle Svante's house when we visited. We hope your family is comforted by your memories and with the promises of this resurrection season of Easter. May God grant you His peace. Sandy Anttila Jessel"
» Sandra Jessel on March 24, 2018
Sign the Guestbook
---